It is not surprising that TikTok is world-famous and attractive for its video quality and high levels of engagement. With this platform, you can share short videos and make your content go viral instantly. Even people who are busy or good at making money are interested in this platform and also have a TikTok account of their own. The rapid growth by the hour makes TikTok become the most downloaded application with over 680,000 new users on a daily basis. Thus, it is a fertile land for marketers and businesses to grow their brands. With their increasing needs, we offer an account creation utility commonly known as the TikTok account creator bot with various great features included, helping you focus your energy on content creation and channel development only.
Why is TikTok so attractive?
Firstly, TikTok is bona fide and always on trend. 64% of users say that they can confidently show their personality and talents on this platform. Others think that they can always be themselves when active on TikTok. They also feel that any content posted on TikTok is exciting, authentic and always up to date, including TikTok ads. So TikTok always attracts users in its own way. Secondly, TikTok helps busy people have moments of relaxation after working hard. It is a platform that brings only novelty and positivity but not spreading negative content and affecting mental health as certain platforms. Thereby, more than half of users enter TikTok 8 times a day.
What benefits do you get with a large number of TikTok accounts?
Through the foregoing, TikTok has a perfect starting point and succeeds in building a large community and it didn't take long to reach over a billion monthly users. That is also why it is now a potential marketing channel for thousands of businesses and sellers. Let's take a look at benefits you get after creating bulk TikTok accounts: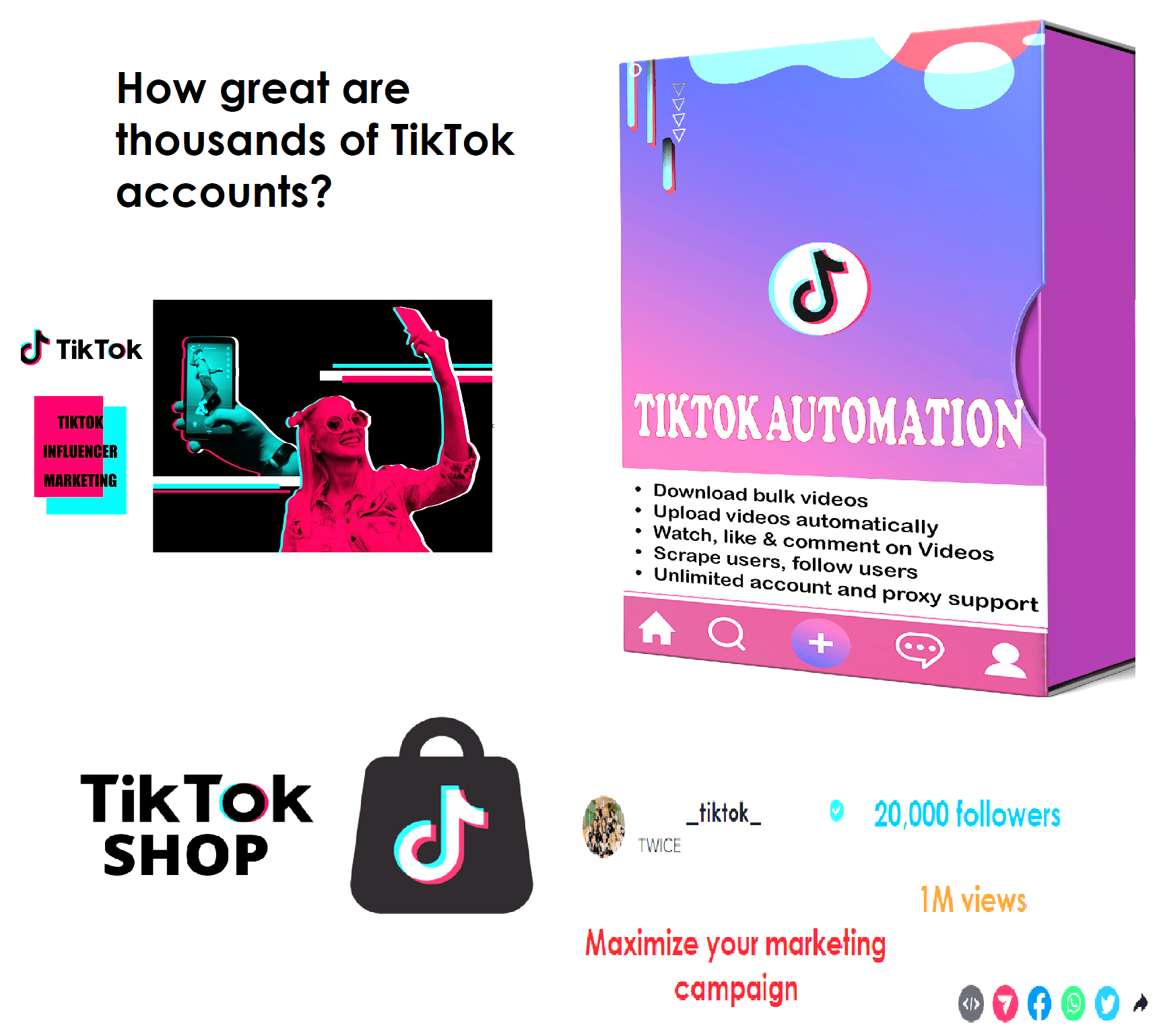 1. Offer a great social proof to your consumers and buyers –

TikTok account creator bot
Nearly 21% of consumers pick TikTok as their online shopping destination. This figure surpasses both Youtube and Instagram. Accordingly, it is the social media application with the highest purchase rate and has a strong impact on shoppers. By enhancing your engagement using multiple accounts, there is a great chance to offer a great social proof to your audience and buyers. The more you have a high visibility with thousands of views, likes, comments, the faster you can catch up with other reputable online shops and get more potential customers.
2. Become an influencer with thousands of followers 
Most TikTokers become successful as influencers. Businesses are all interested in hiring an influencer to represent their brands. This activity emerged at the end of 2019 but it has not shown signs of slowing down so far. With an eye-catching and crowded profile, you have the opportunity to become an influencer or brand ambassador. It not only helps you to earn a lot of money but also enhances your value.
3. Boost you to be qualified for TikTok Creator Fund

-TikTok account creator bot
Anyone who is a creator on TikTok will know about this fund. In addition to keeping a good character when making videos on TikTok, you shall reach over 10,000 followers and 100,000 authentic views within the last 30 days. The more TikTok accounts you have, the quicker you will become a paid TikTok Creator. Accordingly, no matter how popular you desire to be on TikTok, the sub-accounts will be the premise to help develop your main channel and grow your business. 
What Can You Expect after Purchasing Tiktok account creator bot?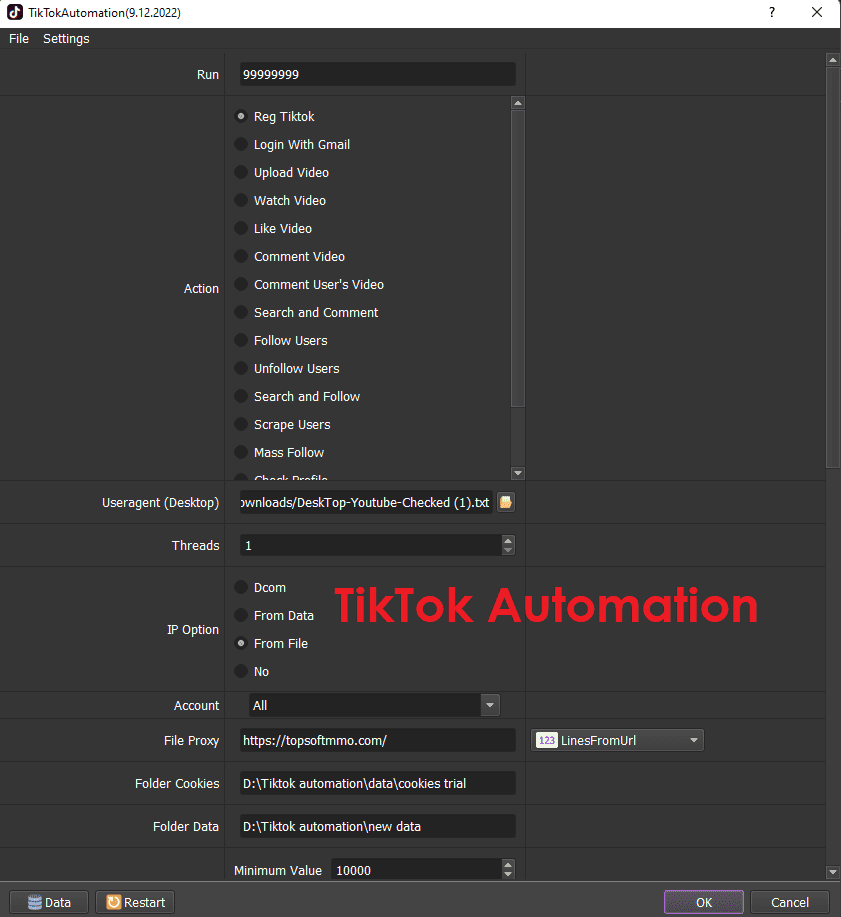 Register bulk TikTok accounts automatically
Fundamentally, to avoid getting banned when creating multiple accounts at the same time on a single device, our bot will help you do it. It automatically gets new IPs from your proxy source and provides you with 50,000 User-agents to open unlimited accounts. Then the tool will create accounts based on your gmail accounts. Besides, a special optimization has been included in the tool, which automatically solves the captcha when it comes to random. Also, the tool is regularly updated to bypass TikTok's frequently changed security requirements. Finally, after logging accounts successfully, the tool will save profiles and run the other functions but not re-logging for the next time.
Take your newly created accounts to the next level with multiple marketing functions
1. Upload multiple videos at the same time
Uploading videos helps showcase your content to the public. You just need a few simple steps to upload videos in bulk. This lets you have more free time for your creation and minimizes your effort. Besides, you can use it to re-post a series of videos to multiple channels helping you to increase brand awareness and expand your customer base as much as possible.
2. Enhance your engagement with thousands of views, likes, comments
As mentioned above, the main purpose of using multiple TikTok accounts is to increase the engagement rate or add value to your channel. The tool enables you to boost views, likes, comments, and promote your main account. That way, your TikTok channel gets popular sooner than other influencers. Along with diverse good comments, you are more likely to gain trust from the audiences and raise order closing rate.
3. Scrape TikTok users who commented on videos
This function allows you to collect the names of your audience or any customers who have needs related to your product or service. This is a good opportunity for you to reach new customers and clients and maximize the number of target customers.
4. Focus on follow your main accounts
This feature is known as Mass follow. After having multiple accounts, the tool will focus on following your main account. It allows you to quickly get thousands of followers and stay ahead of the other Tiktokers.
In addition to the main functions, you are able to check profile, search and follow users that you want and especially control manually to perform other TikTok actions that you want. Our TikTok bot is designed to be with you right from the beginning to thrive so that you can start your journey ASAP.
We hope Tiktok account creator bot is a perfect companion of your business to develop on TikTok.
Thank you for following the post. We appreciate your time.
For more information, kindly contact us at Autobotsoft.com