Tiktok is a Chinese-owned social network application that enables users to create and share short-form videos on any topic. It was launched by Bytedance Technology company in 2017. Nowadays, Tiktok is one of the leading platforms attracting a large number of users around the world. Besides the high enjoyment, Tiktok also gives users many chances to be creative and get more knowledge. Until now, Tiktok has gained over 3 billion downloads and more than 1 billion monthly active users. Because of its global popularity, Tiktok has gained more attention from brands, sellers, and Influencers. If you want to do marketing on this platform, you need to upload multiple videos to connect to customers effectively. In this article, we will introduce you to a Tiktok upload bot with the function of uploading thousands of videos to many Tiktok accounts.
How to Upload a Video to Tiktok Platform?
You can upload videos to Tiktok on mobile and desktop devices. However, when it comes to uploading videos, people will think about mobile instead of desktop gadgets that allow them to access many choices of adjusting videos like effects, sound, stickers, filters, and so on before publishing. Now, we will talk about the process of uploading a video on mobile.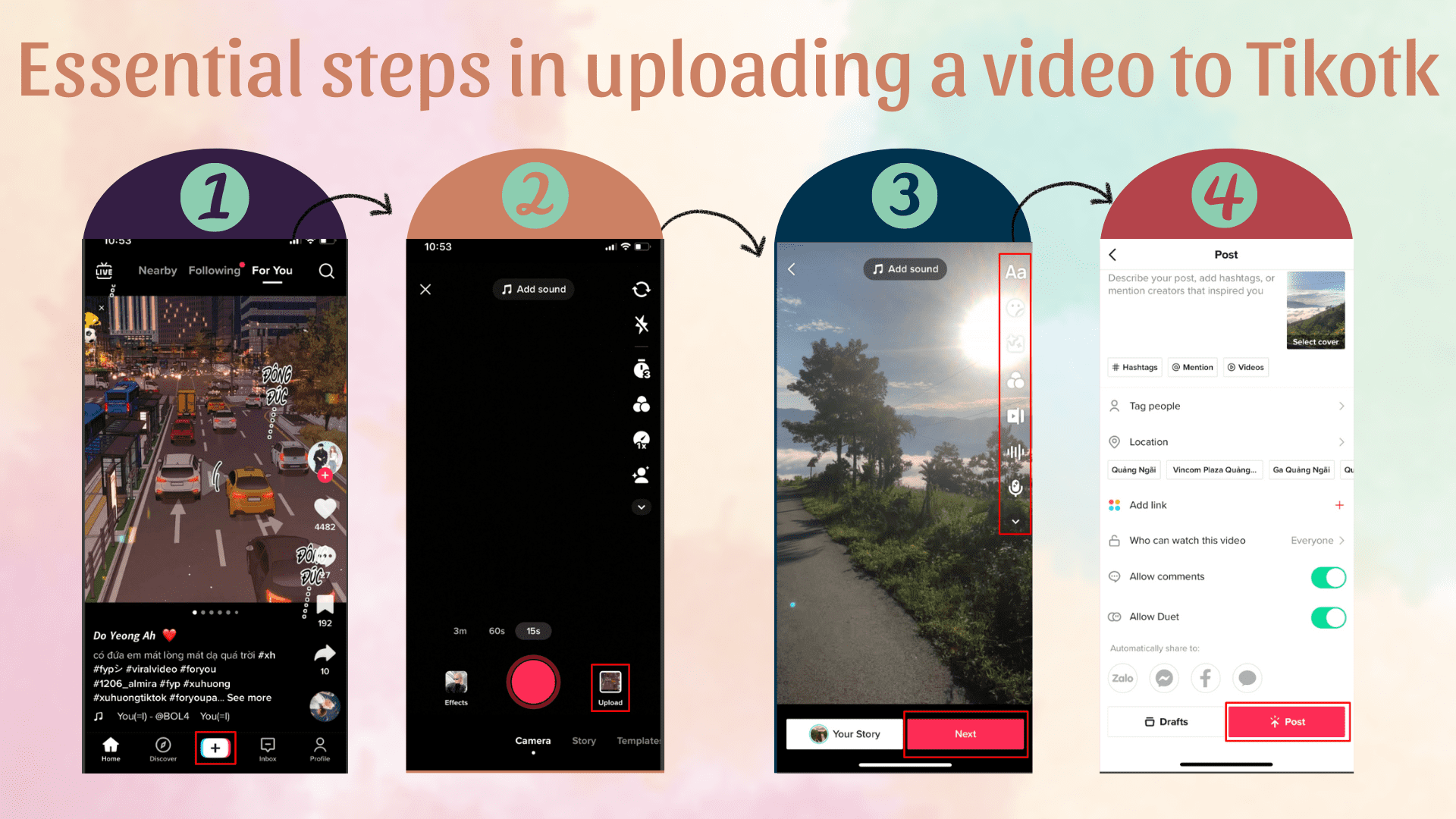 Firstly, when you open the Tiktok application on your phone, you will see the interface like the first picture above. There are five selections at the bottom, and you can tap the "+" button if you desire to upload a video or photo. Then choose "upload" and pick videos or pictures saved on your mobile, or click the red button to start recording videos directly.
Next, after you complete the above steps, you can add stickers, text, effects, voiceover, and trending music, to make an impression for your videos.
Finally, you should make a short description so that viewers can know what your video is talking about and add a lot of hashtags. And then you can set some privacy settings such as who can watch the video, who can comment, and so on, then tab to post. It is a simple process of uploading a video to Tiktok that everyone can do.
However, if you desire to promote the brand or do marketing on Tiktok, you need to own a large number of Tiktok accounts and upload bulk videos for each one. It is so useful if you get the support of software. It will help you fulfill all steps automatically to save a lot of time and effort.
The Frequency of Uploading Videos to Tiktok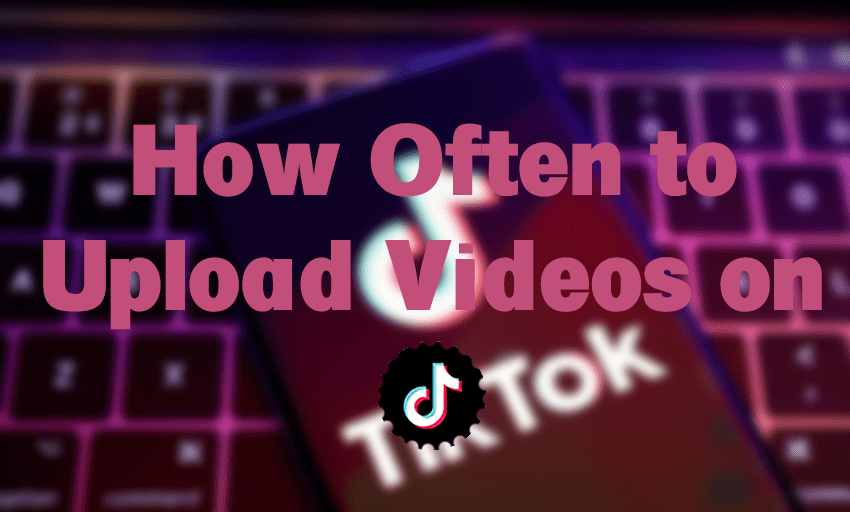 The frequency of uploading videos to TikTok will depend on your goals and resources. If you are looking to grow your presence on the platform, it's generally recommended to post consistently to stay active and engaged with your followers. This could mean uploading multiple times a day or several times a week, depending on your available content and resources.
However, it's important to strike a balance and not oversaturate your followers with too much content. It's also a good idea to consider the optimal times to post based on your target audience and their TikTok usage patterns.
Ultimately, the frequency of uploading videos to TikTok will depend on your specific goals and resources, as well as your audience's preferences. It may be helpful to experiment with different posting frequencies to see what works best for your specific situation.
Tiktok is gradually becoming one of the potential markets for many brands, marketers. Thereby, product promotion on the Tiktok platform is increasingly being applied by a large number of people. However, this is a fiercely competitive market, so you should invest more in digital marketing. As a marketing plan, seeding with bulk clone accounts is an indispensable activity. And the number of uploaded videos to Tiktok is also much more than usual accounts to associate potential customers effortlessly.
Take advantage of Tiktok Upload Bot
Are you tired of manually uploading videos to TikTok one account at a time? If you are a business owner or content creator looking to save time and effort, a TikTok Upload Bot might be the solution you've been searching for.
A TikTok Upload Bot is a tool that allows users to automate the process of uploading videos to TikTok. With this tool, you can schedule posts in advance and even upload to multiple TikTok accounts simultaneously. Some TikTok Upload Bots even offer the ability to customize video captions and tags to further strategize your content.
Using a TikTok Upload Bot has numerous benefits for businesses and content creators. By automating the uploading process, you can save time and effort that can be better spent on other tasks. Consistently posting content is essential for staying active and engaged with followers on TikTok, and a TikTok Upload Bot can help you achieve this. Additionally, uploading to multiple accounts at once can increase your reach and potentially bring in more followers.
Tiktok upload bot – TiktokAutomation
Once we realize the global development and demand of this platform. Our company – Autobotsoft specializing in software development has launched a Tiktok bot. Until now, we have upgraded software many times aiming to give customers more functions and a great experience. Tiktok bot is still one of the most trusted software on the market nowadays.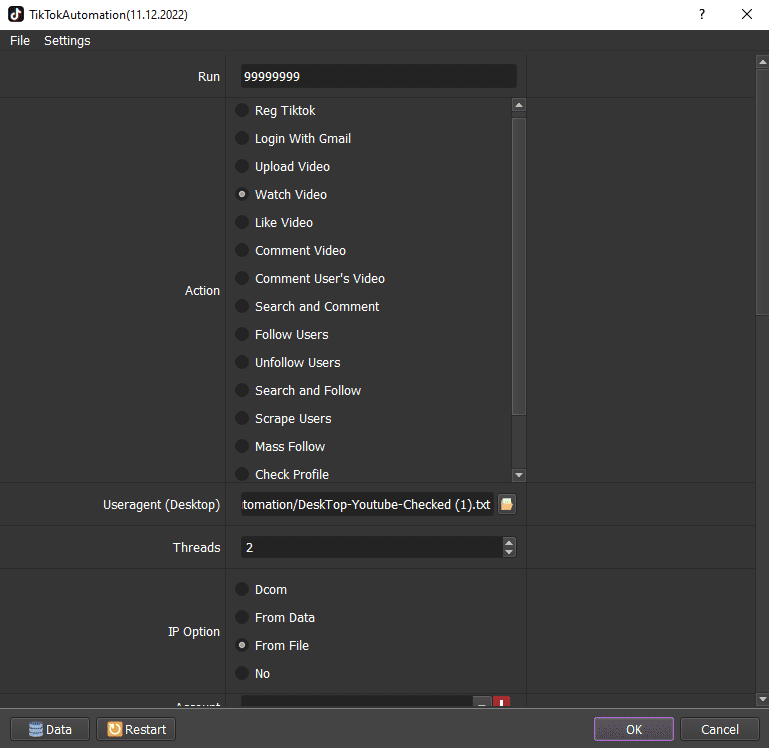 Besides uploading thousands of videos to multiple Tiktok accounts, this tool also has several outstanding functions such as
Auto register bulk TikTok accounts using Google Accounts
Auto comment on user videos, spin-tax support
Scrape users who commented on videos
Increase view, like, comment for Tiktok posts easily
Multi-threads and proxy support
Support mass follow account or follow list of users
Manage unlimited accounts
In conclusion, a TikTok Upload Bot is a valuable tool for businesses and content creators looking to streamline their social media strategy. With the ability to schedule posts in advance, upload to multiple accounts, and customize captions and tags, a TikTok Upload Bot can help you save time and effort while increasing your reach on the platform. If you haven't tried using a TikTok Upload Bot yet, it might be worth giving it a shot.
We hope this article will be useful for all of you. Thanks for your reading.
For more details, kindly contact us at Autobotsoft – Top Marketing Software