Why  do you need to increase review google maps?
Nowadays, people normally go to google search to find something they wanna buy or service they wanna use. When someone search a keyword to find local business location, Google will show google business locations on Top of search's result. You will see that a location with the highest rating will show up on the first position. So why don't you increase review google maps to bring your business address to top of google search and google maps?
There  are some benefit  of getting high rating on google reviews:
You  will be on Top of google search for local business
Your customers will recommend your location.
Your reviews will bring more customers because all visitors love a place with good reviews
You don't have to worry about negative reviews from your challengers
How ABS Google Map Reviewer help you increase review google maps?
Our software will login many gmail accounts on different virtual devices with different IP address to give five star reviews for your google business location. By this way, the rating for your google map location will be increased faster than any other method
Features and requirements  of ABS Google Map Reviewer
Run on any windows computer
Support  unlimited reviews and locations
Use proxy/ Dcom 4G to change IP
Support more than ten thousand user-agents
Review with photos (Optional)
Review with random rating (Optional)
How to use this tool to increase review google maps?
The following screenshots will explains  all setting parameters for this software: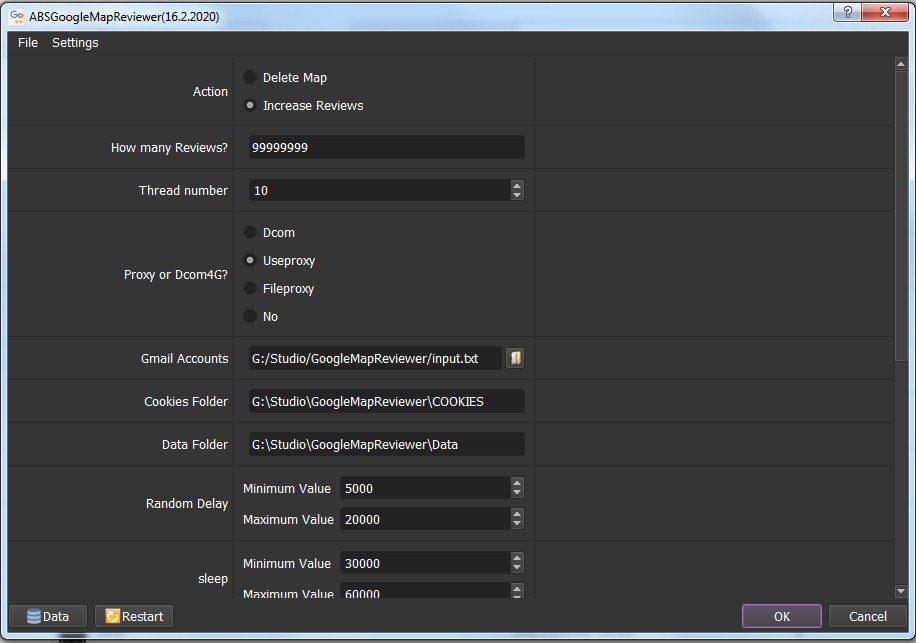 Action: Select " Increase Reviews " to increase google reviews for your google map address
How  many Reviews: Number of reviews that you want to add
Thread number: Number of threads to run at the same time
Proxy or Dcom4G: Select Dcom if you want to use a Dcom with 4G sim card to change IP for each run. Select Useproxy to use proxy which is attached along with gmail accounts. Select FileProxy to use proxy from a specific file, each proxy per line.
Gmail accounts: Link to gmail file (.txt). Each gmail account per line with format: Gmail,password,recoveryemail,proxy,port
Cookies Folder: Path to a folder where you want to store cookies.
Data Folder: Path to a folder where you want to store other data files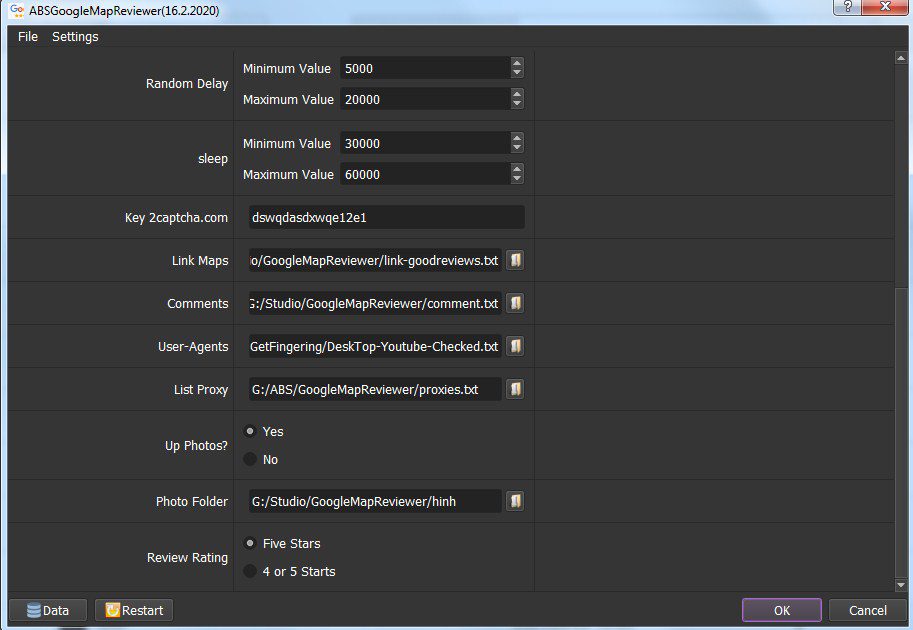 Random Delay: random delays between actions (Milliseconds)
Sleep: Delay between two reviews (milliseconds)
Key 2captcha.com: 2captcha.com key to solve Google Recaptcha automatically if needed
Link Maps: Each link per line in a text file (.txt)
Comments: Each commend per line in a text file (.txt)
User-Agents: Link to user-agent file which is provided when you purchase the software
List Proxy: Link to proxy file
Up Photos: Selec "Yes" if you want to add photos to reviews
Photo Folder: A folder with all your photos. The tool will take a random photo for each review
Review Rating: Select option that you want
If you need more information, you can contact Autobotsoft