Gmail is an incredibly powerful tool for businesses of all sizes. However, creating bulk Gmail accounts is not an easy task. Using a Google account generator can help you register bulk Gmail accounts automatically.
Methods to make money with bulk Gmail accounts
If you're looking for ways to earn money online, using bulk Gmail accounts can be a great option. With the rise of digital marketing and e-commerce, businesses are constantly looking for ways to reach more customers and promote their products. By creating bulk Google accounts, you can provide valuable services to these businesses and earn a profit in return.
Offer email marketing services
One way to make money with bulk Gmail accounts is by offering email marketing services. Email marketing is a highly effective way for businesses to reach their target audience and promote their products or services. As an email marketer, you can help businesses create email campaigns, manage their subscriber lists, and track their email marketing metrics. With bulk Gmail accounts, you can send out mass emails to thousands of subscribers at once, making the process more efficient and cost-effective.
You may need mass email sender to do email marketing services
Offer social media marketing services
Another way to make money with bulk Gmail accounts is by offering social media marketing services. Social media is a powerful tool for businesses to connect with their audience and promote their brand. As a social media marketer, you can help businesses create and manage their social media accounts, create engaging content, and run targeted ads. With bulk Gmail accounts, you can create multiple social media accounts for your clients and manage them all from one place.
You may be interested in social network traffic tool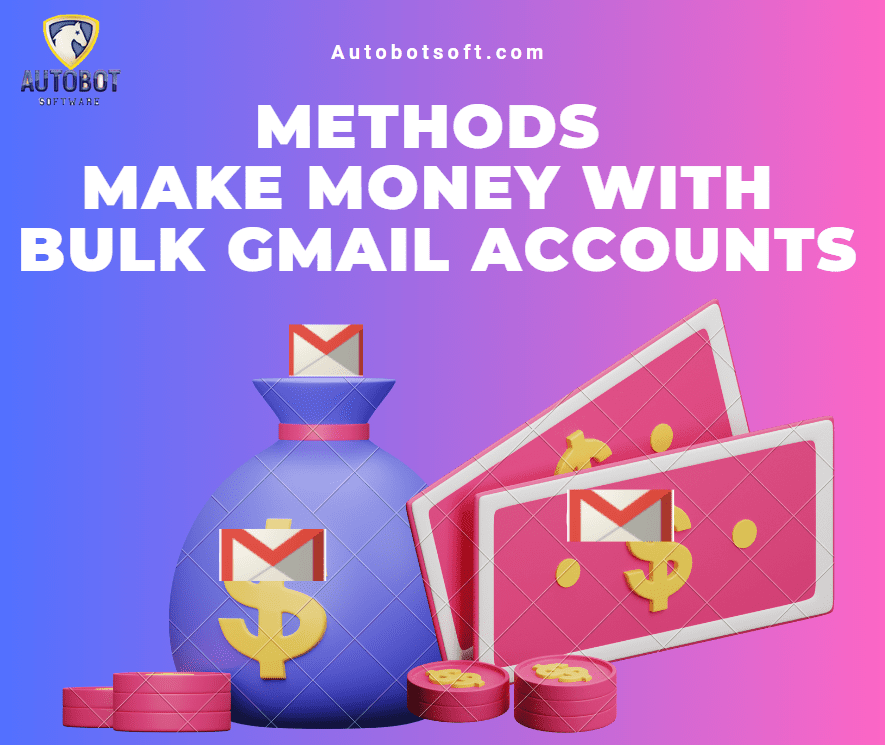 Do search engine optimization (SEO) services
You can also make money with bulk Gmail accounts by offering SEO services. SEO is the process of optimizing a website to improve its search engine ranking and drive more organic traffic. As an SEO specialist, you can help businesses optimize their website content, build backlinks, and improve their overall website structure. With bulk Gmail accounts, you can create multiple email accounts to use for link building and outreach, making it easier to build relationships with other websites in your client's niche.
Refer to the best website seo tools
In conclusion, there are many ways to make money with bulk Gmail accounts. Just be sure to stay organized and stay on top of your workload to ensure that you can provide the best possible service to your clients.
How to get bulk Gmail accounts?
You can get bulk Gmail accounts in the following ways
Create bulk Gmail accounts manually
Creating bulk Gmail accounts manually is possible, but it requires patience and resources.
To start, you'll need to have multiple phone numbers to verify each account. This can be a challenge, but you can use online services that offer temporary phone numbers for verification purposes. Another essential requirement is to have different IP addresses. Creating too many accounts using the same IP address can trigger Google's spam filter, which can result in your accounts being suspended. Once you've verified your phone number, Google will ask you to provide a recovery email address. You need to prepare recovery emails, too.
Creating multiple Gmail accounts can be tempting for individuals and businesses alike. However, manually creating bulk Gmail accounts can have its disadvantages. Firstly, it can be an incredibly time-consuming process that can take up valuable resources. It can also be a tedious and repetitive task that can be prone to human error. Additionally, Google has measures in place to detect and prevent the creation of multiple accounts, which can lead to the suspension or termination of all accounts created. Moreover, creating bulk accounts can be considered as spam behavior, which can damage your online reputation and affect your search engine rankings. It is also worth noting that maintaining multiple accounts can be a challenge, especially when it comes to managing login credentials and ensuring the security of the accounts.
Overall, manually creating bulk Gmail accounts can be a risky and inefficient approach that can have significant drawbacks.
Purchase bulk Gmail accounts
If you're looking for a more straightforward solution, you can simply purchase bulk Gmail accounts from a provider. There are many online services that sell bulk Gmail accounts at affordable prices. They often offer different packages depending on your needs. However, you can not totally control the quality of bulk Gmail accounts when you buy them. It is important to make sure you're purchasing accounts from a reputable and reliable provider to avoid any potential issues down the line.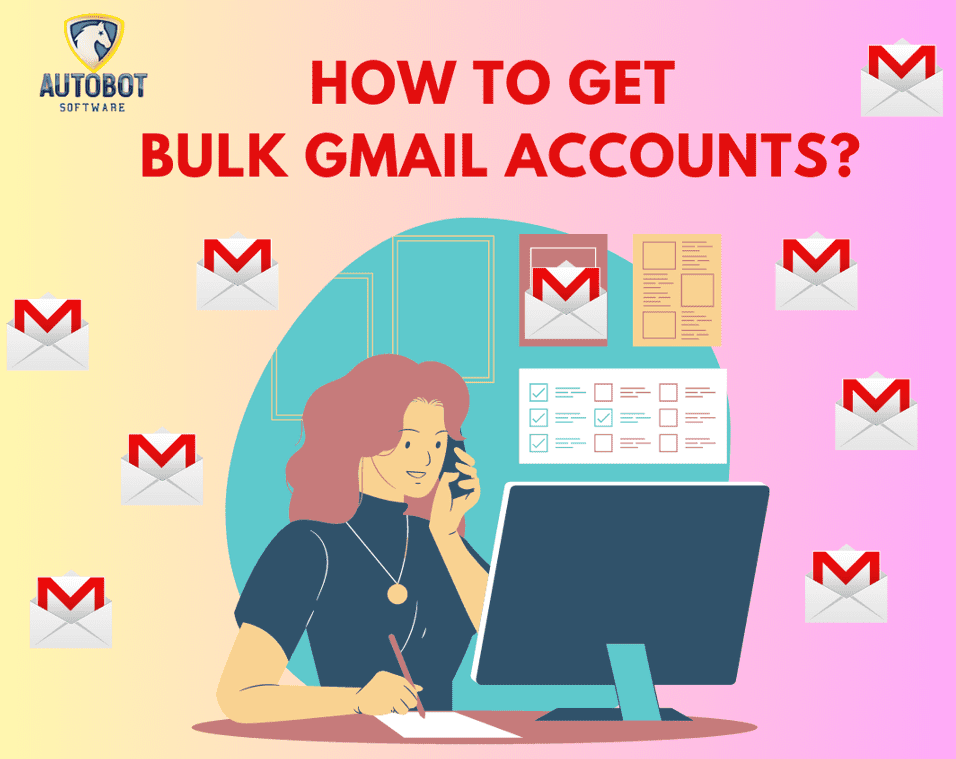 One of the easiest and most efficient ways to get bulk Gmail accounts is by using a bulk account creator tool. These tools automate the account creation process, allowing you to create hundreds or even thousands of accounts in a matter of minutes.
In addition to saving time, a Google account generator tool can also help users to manage their accounts more efficiently. You can easily keep track of all your generated accounts and manage them in one place. This means that you can easily delete or modify any account as needed, without having to go through a complex process.
Overall, there are many ways to get bulk Gmail accounts, and the best option for you will depend on your specific needs and resources. Whether you choose to use a bulk account creator tool, hire a freelancer or agency, or purchase bulk Gmail accounts directly, make sure to do your research and choose a provider that you can trust.
How can Google account generator tool support users in creating bulk Gmail accounts?
Our bulk Gmail account creator will open multiple tabs and simulate real users to create many Google accounts simultaneously. You can set the total number of Gmail accounts that you want the bot to create. The bot will automate all required steps till it creates Gmail accounts successfully.
If you create too many accounts with the same IP, your created accounts can be disabled by Google. That is the reason why our IT team integrated proxy options into the
Gmail generator
. You can import rotating proxy, then the tool will
create bulk Gmail accounts
with different IPs. Also, you can use
Dcom
in case you want.
You can visit
saferproxy.com
to rent the best proxy for registering bulk Gmail accounts.