Twitter is one of the most popular social media platforms. It can be a powerful tool for marketing and promoting products or services. However, creating and managing multiple Twitter accounts can be time-consuming and challenging. Fortunately, you can use a Twitter account creator bot to create bulk Twitter accounts automatically.
How to make money with bulk Twitter accounts
If you're looking for a way to make money online, you might consider using bulk Twitter accounts.
To start making money with bulk Twitter accounts, you'll first need to establish a niche or industry that you want to target. For example, you might choose to focus on fashion, technology, or sports. Once you've identified your niche, you can start building your network of Twitter accounts. You'll need to create multiple Twitter accounts. Once you have a decent number of Twitter accounts, you need to begin building up their profiles. This means creating bios, profile pictures, and header images that are consistent and professional-looking. You'll also want to start following people in your target audience to build your following.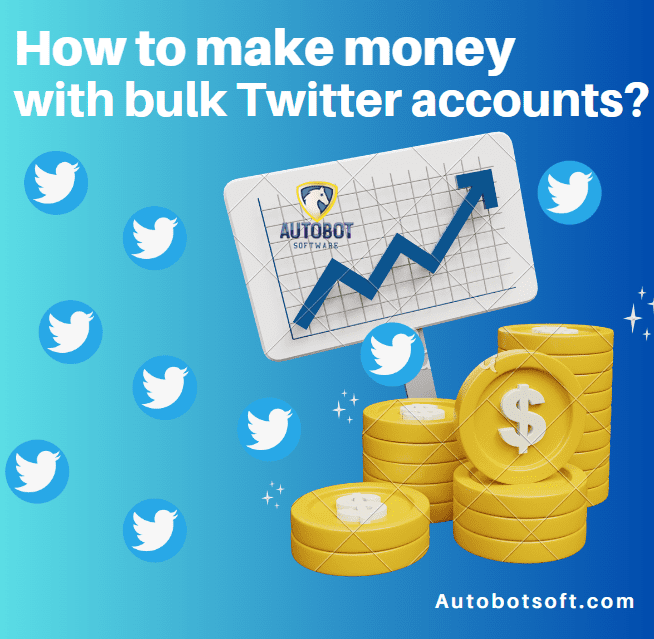 Next, you can start promoting products or services related to your niche. You can do this by sharing affiliate links, sponsored posts, or by running Twitter ads. It's essential to ensure that you're only promoting high-quality products or services relevant to your audience. If you promote low-quality products, your followers will quickly lose interest and stop following your accounts. You can find companies or individuals with products that are relevant to your target audience and sign up to be an affiliate. Then, promote those products on your Twitter accounts and earn a commission for each sale made through your unique affiliate link.
Refer to affiliate marketing
To maximize your earnings with bulk Twitter accounts, you'll need to focus on growing your network of followers. The more followers you have, the more opportunities you'll have to promote products or services and earn money. You can grow your followers by regularly posting engaging content, interacting with other users, and running Twitter contests or giveaways, etc.
Popular ways to get bulk Twitter accounts
Here are three of the most effective methods to get bulk Twitter accounts
Create bulk Twitter accounts manually: creating bulk Twitter accounts manually can be a daunting task. Not only does it consume a significant amount of time, but it can also be mentally exhausting. In addition, Twitter's strict anti-spam policies can make the process even more challenging. When creating accounts in bulk, there's always the risk of getting flagged or suspended for suspicious activity. Moreover, it's not just the account creation process that's problematic, managing and maintaining these accounts can also be overwhelming. This is why many businesses and individuals opt for automation tools. Using a Twitter account creator to create and manage their Twitter accounts will help users save time, effort, and reduce the risk of suspension.
Purchase Pre-Made Twitter Accounts: Another option is to buy pre-made Twitter accounts. These accounts are already set up and can be purchased in bulk from various online marketplaces. However, it's crucial to be cautious when purchasing pre-made accounts, as some sellers may provide fake accounts or accounts that violate Twitter's terms and conditions. To avoid getting scammed, ensure that the seller is reputable and has a track record of providing quality accounts.
Use a Twitter account creator bot: A Twitter account generator is an automated tool that can create multiple Twitter accounts at once. The bot uses algorithms to generate usernames, passwords, and email addresses for each account as you want.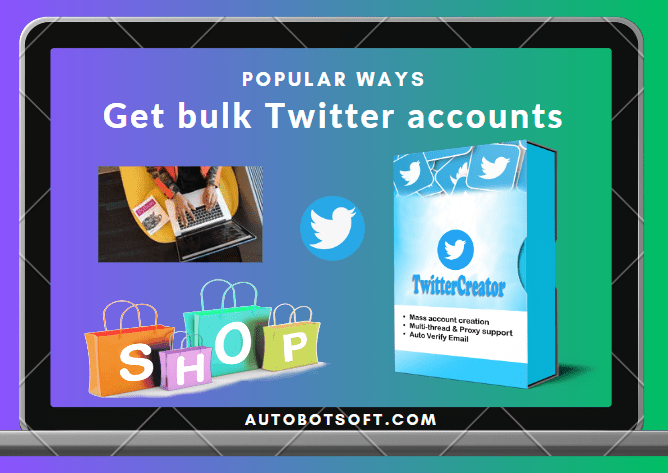 In conclusion, the best way to create bulk Twitter accounts is to use a Twitter account creator. Go to the next part to see how to choose the best tool among many tool providers.
How to choose the right Twitter account creator bot?
When it comes to choosing the right Twitter account creator bot, there are a few things to keep in mind. Firstly, make sure that the bot you choose is reputable and reliable. Don't waste your time and money on a bot that doesn't work properly. Look for reviews and feedback from other users to get an idea of how effective the bot is.
Another important factor to consider is the bot's customization options. Some bots allow you to create highly customized Twitter accounts, while others offer a more basic set of features. Think about what you need from your Twitter accounts and choose a bot that can provide those features.
Ease of use is another important factor to consider. Also, you should buy the Twitter account creator bot with support from the customer service team. You should not spend hours learning how to use a complicated bot. Choose a bot that is user-friendly and easy to navigate. Therefore, you can quickly create new Twitter accounts without any hassle.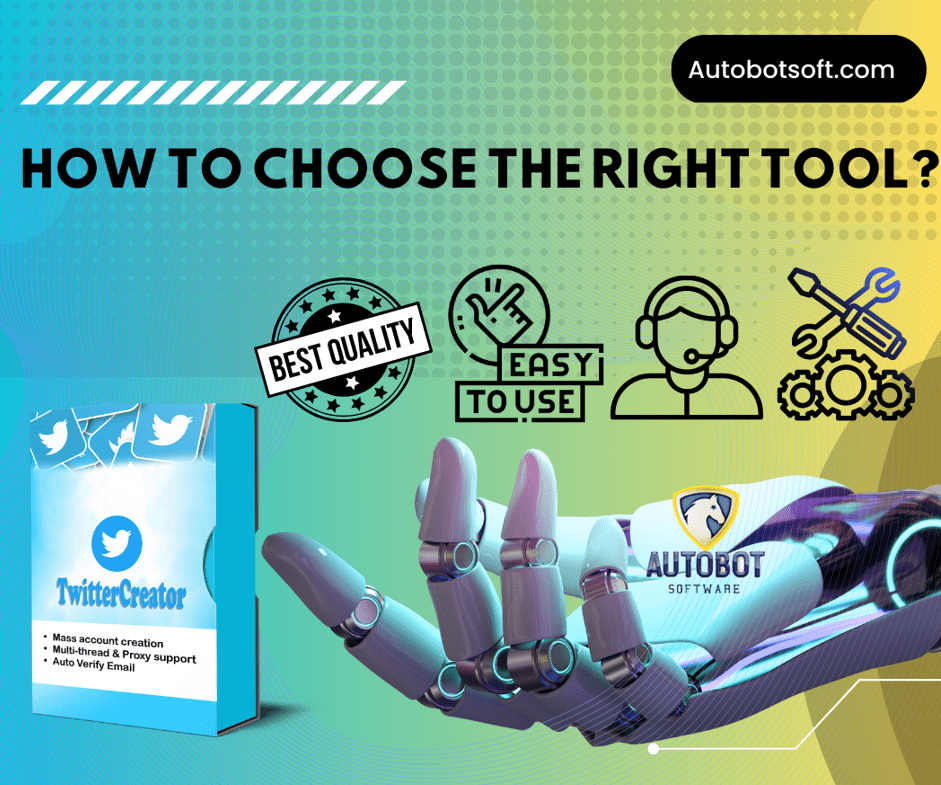 Moreover, buy the bot from the company that codes that tool. If there is any bug, you can ask for fixing directly.
Finally, consider the price of the bot. Think about your budget and choose a bot that offers the right balance of features and affordability.
In conclusion, choosing the right Twitter account creator bot requires careful consideration of a variety of factors. With the right bot, you can quickly and easily create multiple Twitter accounts, saving you time and effort in the process.
The best Twitter account creator bot
This Twitter account creator is the best tool to create bulk Twitter accounts automatically. Users can create Twitter accounts in bulk from different types of email accounts (Gmail, Hotmail, Gmx, etc.)
The bot will open multiple tabs to create many Twitter accounts at the same time. Therefore, users can save lots of time and effort.
Moreover, users can import proxy for the bot to use. Twitter accounts will be created with different IPs. Twitter will ban accounts if you create too many Twitter accounts with the same IP. Therefore, the proxy support of this Twitter account creator is a really good solution for users. You can refer to saferproxy.com to rent the best proxy.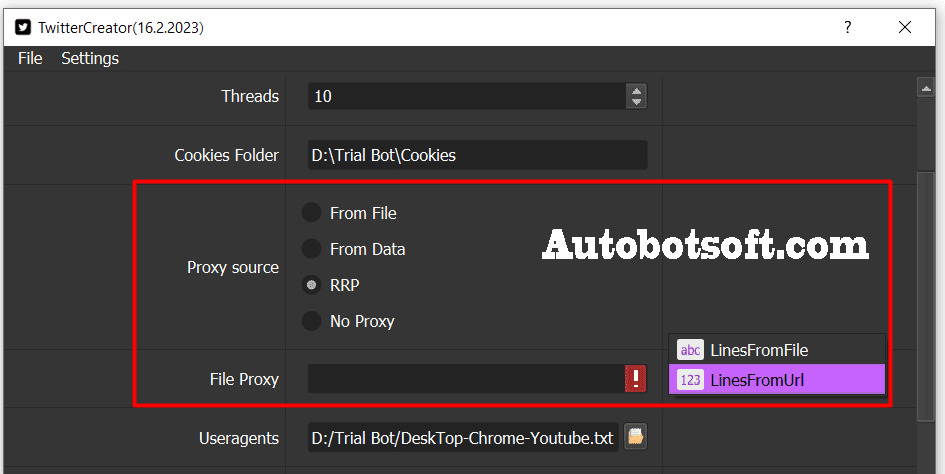 Furthermore, users can create Twitter accounts with first names, last names, usernames and passwords as they want.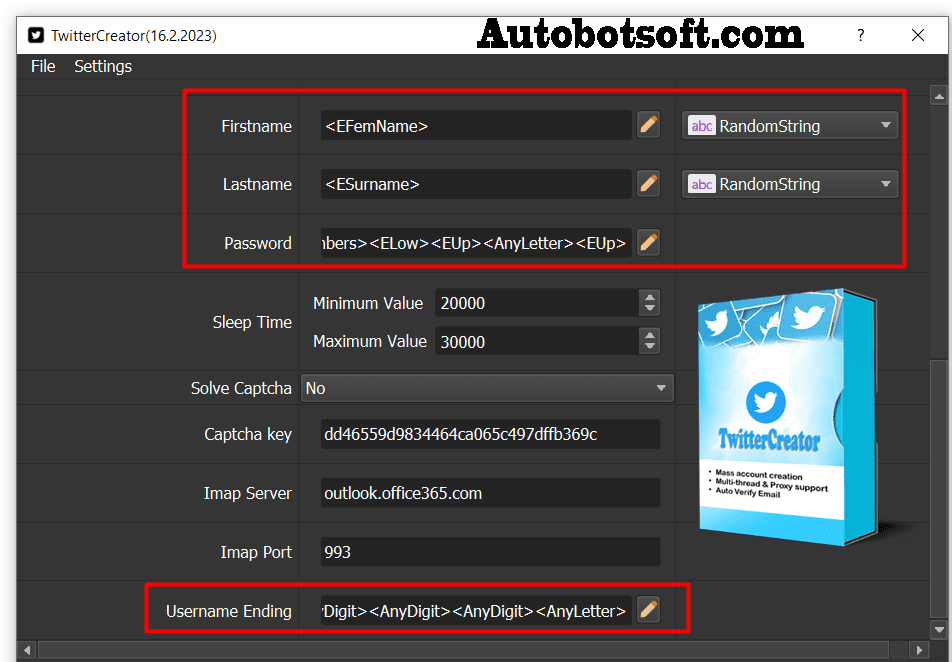 Users can solve the captcha manually or automatically. Furthermore, users can set a schedule for this Twitter account creator bot to run at another specific time.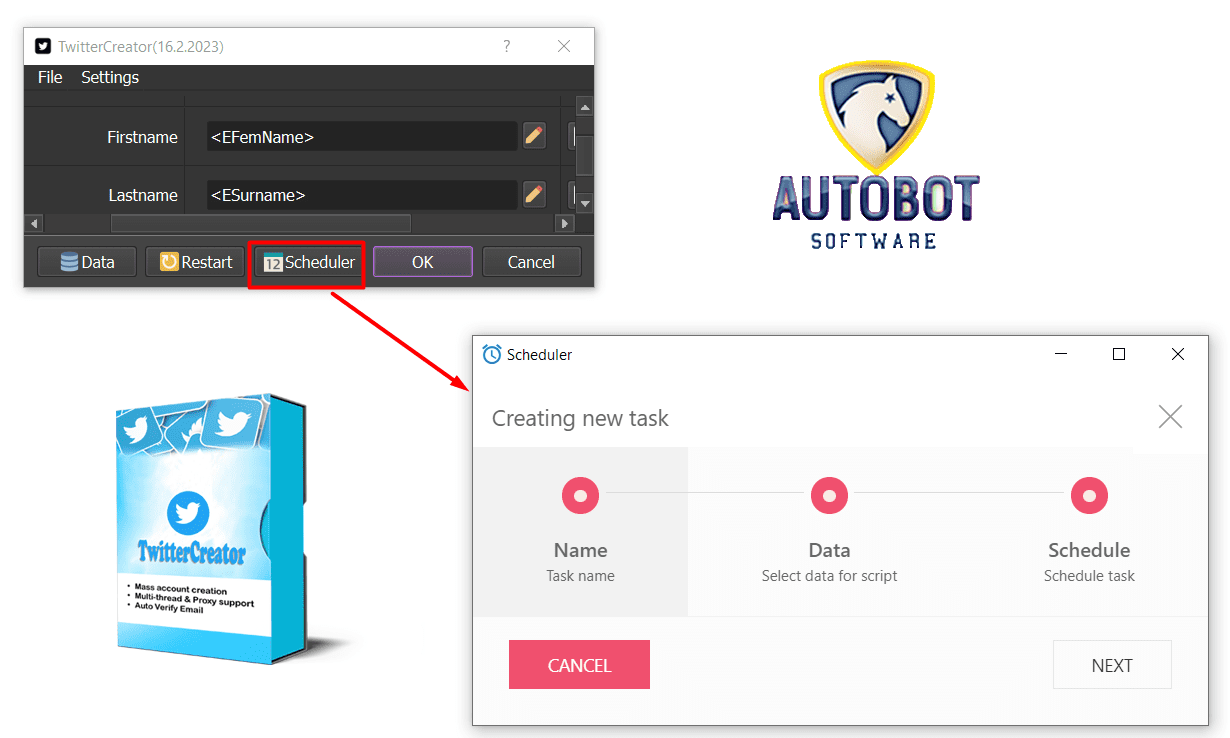 There are tutorials in text and video, you can easily run the bot. In case you need any questions about the tool, our support team is always ready to support you. Our IT team coded this tool, so you can ask for fixing bugs anytime you need without cost.
Contact us at Autobotsoft – Top Marketing Software to get this useful Twitter account creator bot.
You may be interested in Twitter auto tool