Nowadays, Gmail is being used most commonly because of its useful features. Therefore, owning a large number of Gmail accounts can help you take a lot of advantages in your business. However, Google is tightening censorship to prevent users from creating virtual accounts. How can you create bulk Gmail accounts without being listed as spam accounts? Our bulk Gmail account creator software (GmailCreator) will support you in addressing this problem.
The outstanding advantages of Gmail 
Here are popular advantages of using Gmail accounts
Large Storage Capacity
One of the biggest advantages of using Gmail accounts is the large storage capacity. With a free Gmail account, you get 15GB of storage space, which is more than enough for most users. If you need more storage, you can easily upgrade to a paid plan. This means you won't have to worry about deleting old emails or running out of storage space.
Seamless Integration with Google Apps
If you're already using Google Apps like Google Drive, Google Calendar, and Google Docs, Gmail is the perfect email client for you. Gmail seamlessly integrates with these apps, making it easy to share files, schedule appointments, and collaborate on documents. You can even access your Google Apps directly from your Gmail inbox.
Advanced Spam Filtering
Gmail's advanced spam filtering is one of its best features. The spam filter is incredibly accurate and can catch almost all spam emails. It also automatically sends spam emails to your spam folder, so they don't clutter up your inbox. This means you won't have to waste time sorting through unwanted emails.
Save time and cost
Sending an email is much more economical than sending a letter via post office, because it is free. You only need a few seconds to receive the information by email, while a regular letter takes several days. 
You can send various types of information
With Gmail, you can send anything you want including images, videos, links, etc. In case you want to send large images and video files, just attach videos to Google Drive.
High security
Each Gmail account has its own login and password. And Google will inform you when it realizes suspicious activities.
Why do you need many Gmail accounts? – Bulk Gmail Account Creator
In today's digital world, having multiple of Gmail accounts is a necessity. From managing your personal emails to running an online business, there are several reasons why you may need multiple Gmail accounts
Implement YouTube seeding strategies: using many Gmail accounts to comment, like or dislike a YouTube video is a popular way to do seeding on YouTube

Use Gmail to sign up for a Facebook, Instagram, TikTok, Reddit, etc. account: i

f you are managing multiple social media accounts for yourself or your business, having separate Gmail accounts can be beneficial. You can use one account for each social media platform, and it will help you keep track of messages, notifications, and other important information related to that platform.
Managing Multiple Projects: you can use one account for each project, and it will help you keep track of emails, documents, and other files related to that project.

Create accounts for online game sites

Run Google Ads campaign, 

Increase Reviews on Google, etc.
In conclusion, having multiple Gmail accounts can be a game-changer when it comes to managing your online presence. From separating personal and work emails to managing multiple projects and social media accounts, having multiple accounts can help you stay organized and efficient.
However, Create bulk Gmail accounts is not an easy job. Currently, Google is tightening censorship to prevent users from creating virtual accounts. So how can you create high-quality Gmail accounts with low cost and save time? A bulk Gmail account creator tool will be the best choice.
Bulk Gmail Account Creator tool – GmailCreator
If you're an online marketer or business owner looking to scale your outreach efforts, you might have heard about a bulk Gmail account creator. But how does it work?
Bulk Gmail account creator is automation software that can create bulk Gmail accounts in a short amount of time. You can use a proxy server to mask the IP address of the user creating the accounts, which helps to prevent Gmail from flagging the accounts as spam.
Once the accounts are created, you can run additional features such as farm accounts, activate Imap/pop3, or account management functions. These features can help you to organize and manage your outreach efforts more efficiently.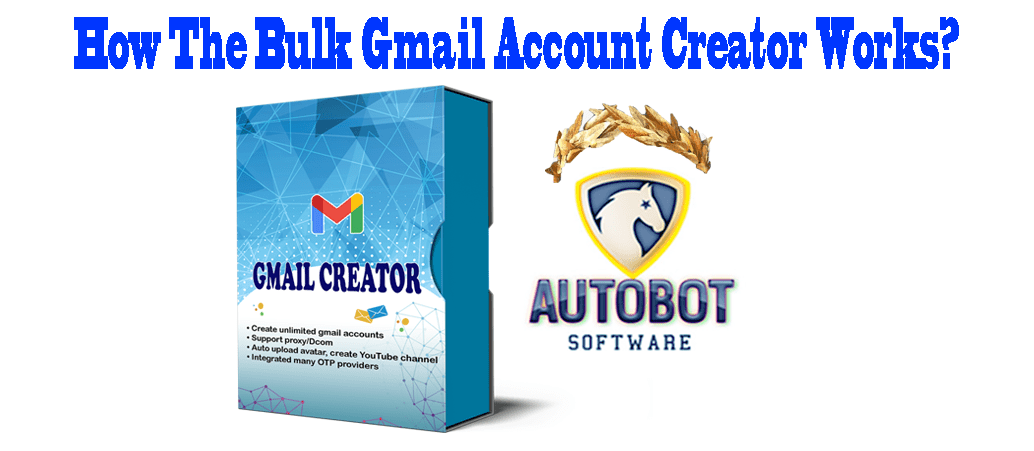 Overall, bulk Gmail account creators are powerful tools that can help you to automate and streamline your outreach efforts.
Outstanding Functions of our Bulk Gmail Account Creator tool
Support using Dcom or Proxies to change IP. Refer to saferproxy.com to rent the best proxy.
Autosave cookies and profiles to use on other software
Auto Upload avatar
Create YouTube channel
Create Google Docs files, Google alerts, Watch YouTube Videos, etc. to gain trust for gmail accounts
Integrate with many OTP providers for phone verification
Export Gmail accounts to many formats: Txt, csv, etc.

Schedule creating bulk mail accounts running by the scheduler tool

Import Gmail from other sources to farm in Gmail Creator in order to gain trust for accounts
Auto re-verify when accounts are asked for phone verification again.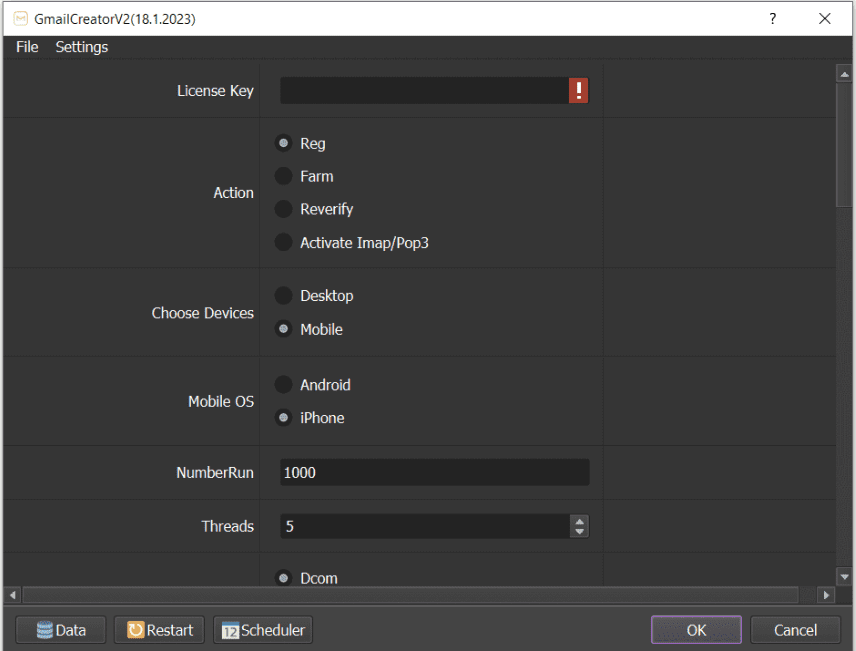 > Refer to How To Use Gmail Creator to Create Bulk Gmail Accounts
to Our Awesome Product now!
Enter your name and your email then click Submit for trial
A bulk Gmail account creator tool as GmailCreator will be the best choice for you to create bulk Gmail accounts . It will address all issues that arisen in creating a large number of Gmail accounts, which will not only save user's time but also their money. 
Thank you for following this article, we hope it will be useful for you.
For more details, kindly contact us at Autobotsoft – Top Marketing Software