Facebook is a dominant social platform with a huge user base and diverse monetization opportunities. Building a community of loyal followers will help you quickly become an influencer and make money on Facebook. However, gaining a large following takes a lot of time and investment. In this case, using a Facebook Creator Account bot will be the smartest solution. In this article, we will show the steps required to become a successful influencer on Facebook. Also, you can explore various methods to use a Facebook Creator Account bot in order to make money on Facebook.
Benefits of being an Influencer on Facebook
Becoming an influencer on Facebook opens the door to making a lot of money. You can share your voice with so many people around the world. This allows you to monetize your influence and turn your passion into a profitable business.
First, you can make money by partnering with brands that fit your niche and audience. With a large number of followers, you can get paid from posts to promote their products or services. When your influence grows, you can be a long-term brand ambassador for brands. These partnerships may offer free products. This benefits both you and your followers. You can establish valuable relationships while still earning a steady income.
Plus, affiliate marketing is also a way for Facebook influencers to make money. With affiliate marketing, you can earn a commission for every sale that originates from your affiliate links.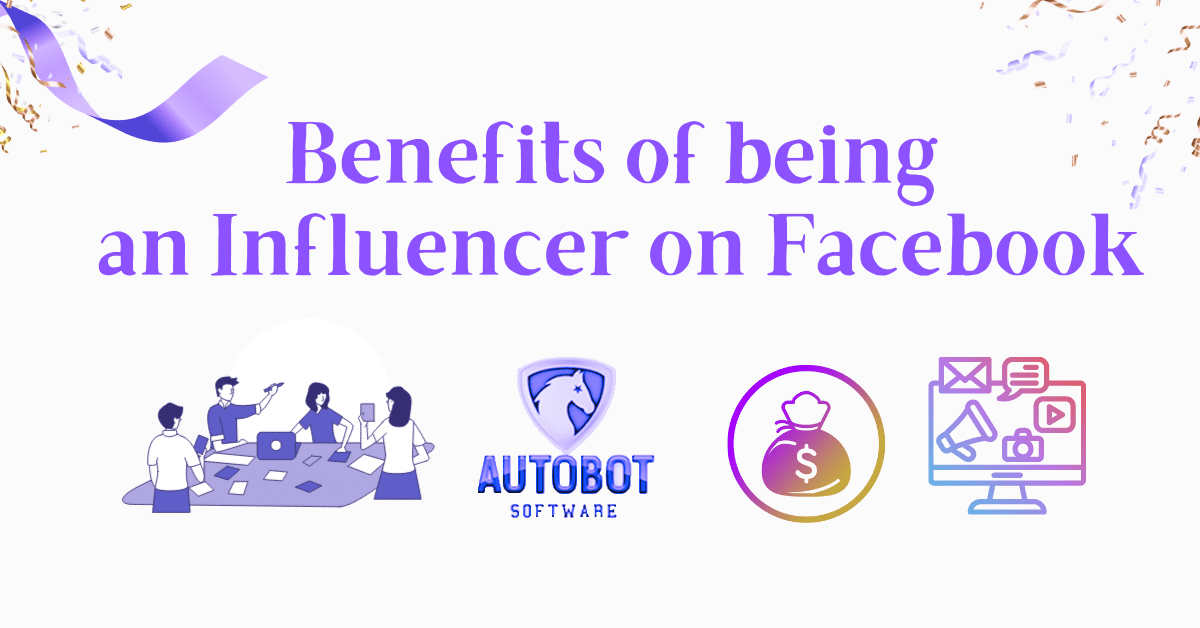 Furthermore, Facebook influencers can create and sell digital products. These products can be e-books or online courses to share your expertise. Followers who trust you will order to receive value from your knowledge.
Refer to how to make money on facebook
In short, becoming an influencer on Facebook offers significant financial benefits. As your followers and engagement grow, you can monetize your platform through a variety of channels.
How to become an influencer on Facebook – Facebook creator account bot
With billions of users worldwide, Facebook gives opportunities to establish your digital presence and impact. If you want to become an influencer on this popular social network, there are four crucial steps that can guide you on your journey toward success.
Step 1. Define your niche and target audience
The first and most important step is to define your niche and target audience. Identify the specific areas where you need to provide value and engage your audience effectively. Also, consider your expertise and passion. Choosing a niche that aligns with your strengths and interests will help you create something unique that's appealing. This will help you stand out in the intense competition from other Facebook influencers.
Once you have identified your niche, the other essential thing is to understand your target audience. Take the time to do research on your target audience's needs and preferences to tailor your content accordingly. The content you create should meet their needs and provide valuable insights. As a result, you can build an engaged community of followers. From there, you have the foundation to become an influencer.
Step 2. Create good content
Creating high-quality engaging content plays an important role in the journey to become an influencer on Facebook. You can create content in a variety of formats, such as photos, videos, and live streams that you can leverage to engage your audience. Experiment with different formats to determine what resonates best with your followers.
Visuals play a pivotal role on Facebook. Therefore, you should invest in good recording equipment to ensure that your images and videos are sharp. Remember that visual content like photos or videos needs professional editing. Don't forget to pay attention to layout, lighting and aesthetics. You should try to make your post attractive and stand out from the crowd.
About text content, create compelling stories, sharing your personal experiences and expertise. Don't forget to add humor and trends to your content. Enhance your question-and-answer content to let your followers share their thoughts. Not only will this increase engagement, but it will also help you better understand your audience. Moreover, the discussion creates a deep connection with your followers. Then, you can build a more loyal community.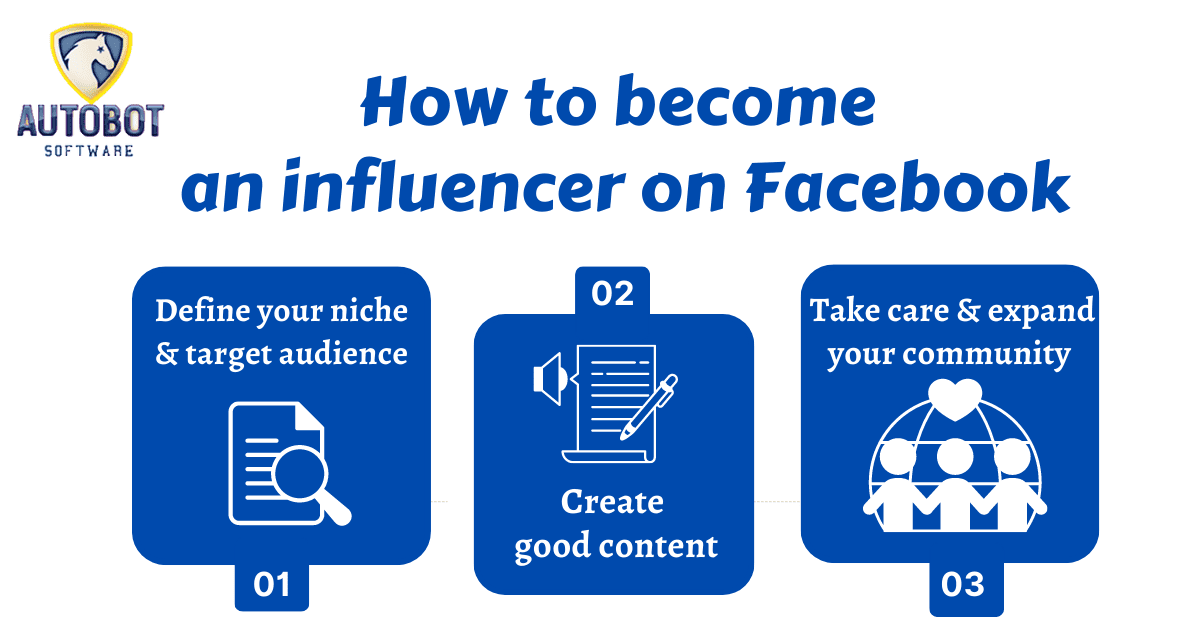 Step 3. Take care and expand your community of followers
It is important for you to interact with your followers as often as possible. Actively respond to comments, messages and direct inquiries instantly. Don't forget to show a genuine interest in their lives and sharing. Regularly share with them something of value and be mindful of their response. This increases a sense of belonging and builds deep connections. From there, you can build a strong and supportive community. Your followers will increasingly trust and support you.
To expand your community, you can collaborate with other influencers or brands in your niche. From there, you can reach new audiences. This increases the chances of your content being shared, discussed and noticed. Your influence on Facebook will be even greater.
Using automation bots helps you become an influencer faster – Facebook creator account bot 
These mentioned steps take a large amount of time to gain the target followers. Using tools in the first stage is another way that can speed up this process.
An automation bot is a tool coded to automate repetitive activities in your Facebook profile-building processes. In general, you only need to set up a few request sections, Facebook bots will automatically perform the activities you want.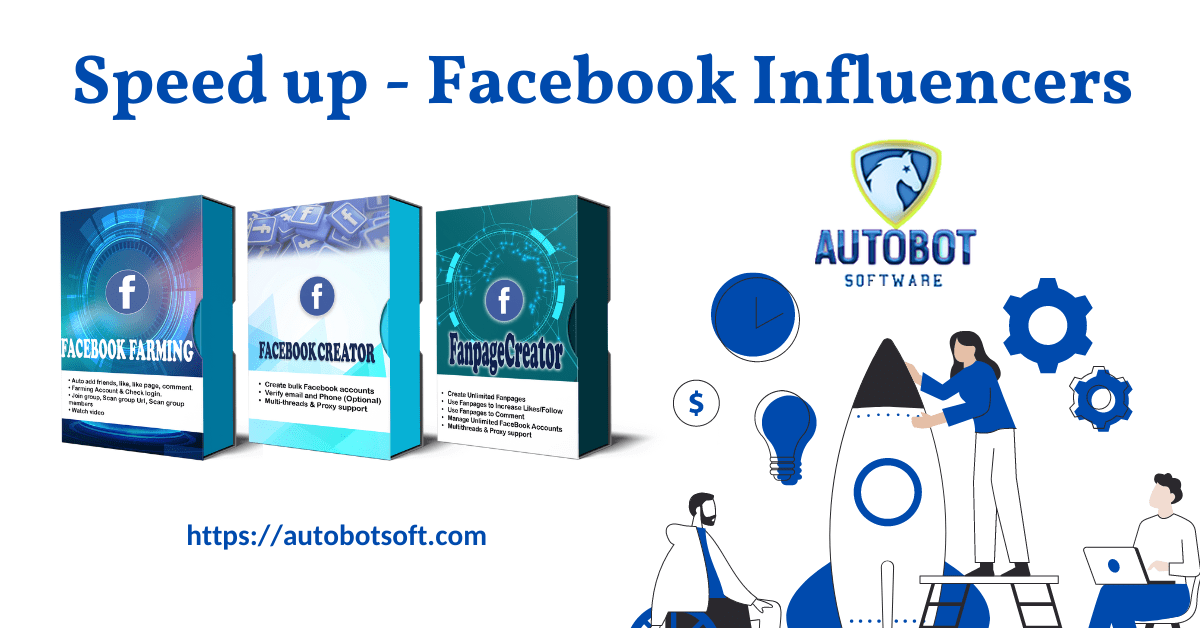 With Facebook account creator bot, you can create multiple Facebook accounts at the same time. This saves you time repeating the steps of creating a Facebook account. Once you have a large number of Facebook accounts, you can easily build a community and become an influencer. For example, you can use these accounts to increase followers, like posts, etc. in the early stages. Posts with a large amount of interaction in a short time can help your profile get noticed. From there, you will attract more followers. Then, to save time, you need to automate various activities such as liking posts, commenting on relevant content, etc. Another bot, Facebook auto comment, can help you automate these complicated tasks.
Using these mentioned bots not only helps you save lots of time but also simplifies the journey to becoming a Facebook influencer.
Where to buy the best Facebook creator account bot 
Our Facebook account creator bot is the best Facebook tool that can create bulk Facebook accounts automatically. Our Facebook creator account bot allows users to use proxy, so you can create bulk Facebook accounts with different IPs. Then, you do not need to worry that the created accounts can be banned by Facebook.
Refer to Proxygeo.com to buy the best proxy
Users can create bulk Facebook accounts with any type of email accounts, phone numbers and temporary emails. With multiple integrated OTP sites, you create Facebook accounts in any country that you want.
Besides creating Facebook accounts function, our Facebook account creator bot can help users update profile pictures in bulk. Also, this Facebook creator account bot can auto-enable 2FA and get UID of Facebook accounts in bulk.
When you buy our Facebook creator tool, you can easily run the tool with tutorials. Our customer service team will support you anytime you need. If there is any problem, we will help you solve it as soon as possible.
Contact us right now at Autobotsoft – Top Marketing Software to get the best Facebook Creator Bot.