Capturing people's taste for entertainment and novelty, TikTok has successfully become the most viral video sharing social platform around the world. The number of users increases on a daily basis with nearly 4 billion downloads. It attracts the attention of a large audience and has become the #1 Marketing channel, especially shopping rate. More and more users are also becoming celebrities and successful on TikTok as fast as TikTok's growth. Besides, if you are active on TikTok now, do you see the comment section always stand out from the crowd? With a huge traffic volume, individuals and businesses use good comments to exposure their brands to the public. To get success in no time, you can target your leads by boosting comments using our TikTok Auto Commenter. It helps auto comment to multiple videos at the same time and improve your SEO campaign on TikTok.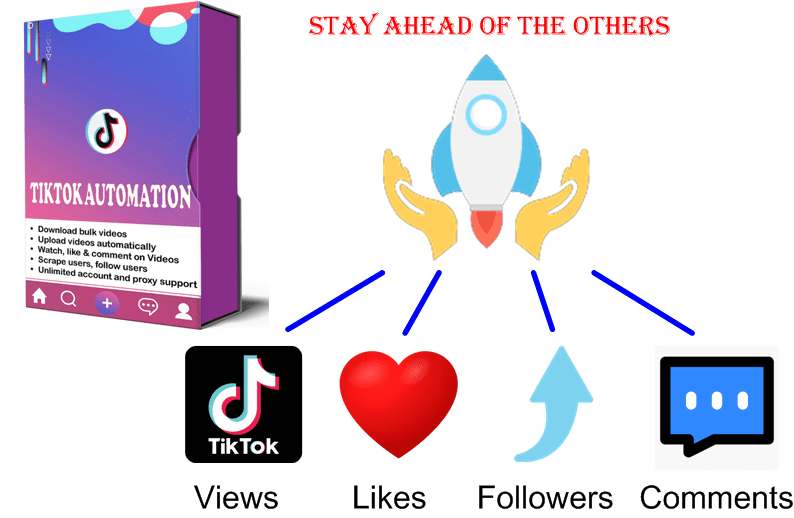 Why should you choose TikTok as No. 1 marketing platform? 
Firstly, TikTok is a short video sharing application with great sound & image effects that makes it the most engaging social platform today. While there are over 1 billion active monthly users on TikTok (as of November 2022), then 90% of them visit TikTok multiple times per day. Marketers are also attracted to TikTok because of the creative talent of its young audience and keeping up with trends. With such incredible strength, it is considered as the most effective one to promote your product and brand.
Secondly, 43% of users get more creative inspiration using FYP. Lots of activities are going on at TikTok, both daily lives' content and showing off the products, especially without the trend of being outdated on TikTok.
What's more, the majority of TikTok users are well-off people with above-average or high income around the world, especially in the USA. TikTok prevails over other social media platforms as the young population makes up nearly 70%. Hence, TikTok has a strong attraction both in both quality and quantity. 
Which engagements are the most important? — TikTok Auto Commenter
Overview of TikTok engagement 
Engagement is the most important metric that helps others find you through search results. That's why you should make TikTok recognize you with a competitive engagement rate. The more interactions you have, the more valuable your brand account looks. Currently, TikTok has 5 commonly used buttons: views, likes (heart), followers, comments, shares. Let's have a look at which one is the best:
TikTok views

are the first engagement that determines how you are visible on TiKTok. 

Heart button

shows the audience's appreciation to your content on TikTok. It is great and helps support other buttons to get more recommendations or suggestions from TikTok.

TikTok followers

, it indicates the number of your true fanbase who really wish to receive any updates from you.

TikTok shares

spread your content to other popular platforms. It indirectly promotes the brand and maximize the number of potential customers and clients.

Comment section

is considered as the best piece of content. With hundreds of good comments, you are successfully building a large community right on your brand account.
Comment contributes greatly to your success on TikTok  
It's so hard to reach more comments, but if you do, you're sure to get the attention of crowds. Most users will drop their hearts if they are interested in a certain video but do not take the time to comment on it. Then with a lot of good comments, it proves that your video is really exciting and draws a large number of viewers. Besides, most users will check reviews before watching videos and trusting certain products or services. This is a great social proof that your brand is highly appreciated and widely used by the majority of consumers. 
Why should you have a large number of TikTok comments? 
Helps Shoppers to Build Trust & Credibility 
Aware of the development of social platforms, government agencies also create an account to transmit information to the public. With this fact, you can see people are being dominated by the power of social media platforms or the crowd. In more detail, most customers read comments before placing an order. Trust and credibility play an important part in converting leads into actual customers. Thousand of positive comments about your brand/product help build absolute credibility and give consumers peace of mind and a quick decision to buy anything. Hence, it helps boost sales and increases order closing rate.  
Reach more random audience 
With a proof that has hundreds of commenters right from the start, you will successfully build a strong reputation and get more real commenters. It also gains more exposure such as: views, likes and subs, especially shares and makes your channel become a crowded community. Plus over 1 billion monthly hits, and you'll be more successful in no time.
Change TikTok algorithm and earning much money
The TikTok algorithm also prioritizes the efforts of brand accounts that have a lot of interactions. The more recommendations you get, the higher your ranking will be. Then your video is more likely to appear on FYP. That way, you will quickly be found by others and have the opportunity to make a lot of money in this ever-evolving world. 
How your brands develop on TikTok with comments – TikTok Auto Commenter
In addition to creating a viral video or trending contents connected to your products and services, the following ways will help you grow better:
1. Do Comments on the celebrity's video in your niche 
After checking the channel of any celebrity, you can see a lot of other brand accounts appearing in the comments. For example, "Apple" brand will be linked to several other commenters who are other famous phone brands. The fact shows that celebrity channels are like a dynamic community that captures the attention of millions of followers. These followers wish to keep up with what's latest on that channel. Hence, this is a great space for you to do marketing and increase your ability to reach potential audiences that suit your niche. 
2. Get valuable feedbacks with comments 
On TikTok, the commenting culture is increasingly innovative. On various channels, the discussion in the comments is just as dynamic or engaging as the original video. In fact, various conversations also become a good topic for your new video. In addition, the comment section is where you get valuable feedback from your audience. It is where to detail product & service reviews, brand quality, things to improve or even complaints. Hence, you will be able to create more creative contents or improve your products and services in the best way.
3. Keep engaged with your customers through comments
The comment section today has become a connection between the buyer and the seller or the customer service. In general, buyers will ask questions about delivery time, payment method, unit price, etc. Keeping engaging with your commenters will give you extra points about your service experience. Besides, this is also how you present your product to find your target clients and customers. It helps other customers to place orders more quickly based on your detailed response without messaging you to ask anything more. So, replying to comments quickly and in detail helps you increase brand credibility and drive sales.
4. Reply to comments using video
TikTok is the only platform that allows you to respond to audience comments with videos. This helps show your interest in your audience and showcases related features to your products. Along with the virality of video marketing, this is a campaign that has been reported to boost sales by 200%.
Why is our site the best place to buy the Tiktok Auto Commenter? 
Comment Related Functions – TikTok Auto Commenter
Tiktok Auto Commenter is a desktop emulator application used to increase engagement automatically. With the importance of comments and understanding your different needs, there are 4 related features: search and comment, comment on the video, comment on your livestream, comment user's video. To run these features, you need your video link, keywords, usernames and comment content. The software will automatically get files from data and make comments.
Search and comment: TikTok search that is an important aspect of the platform, helps enhance your visibility to reach new audiences. Our TikTok bot will search your keyword that you need and comment on any related videos. A large number of searches helps to optimize your keywords and increase comments naturally.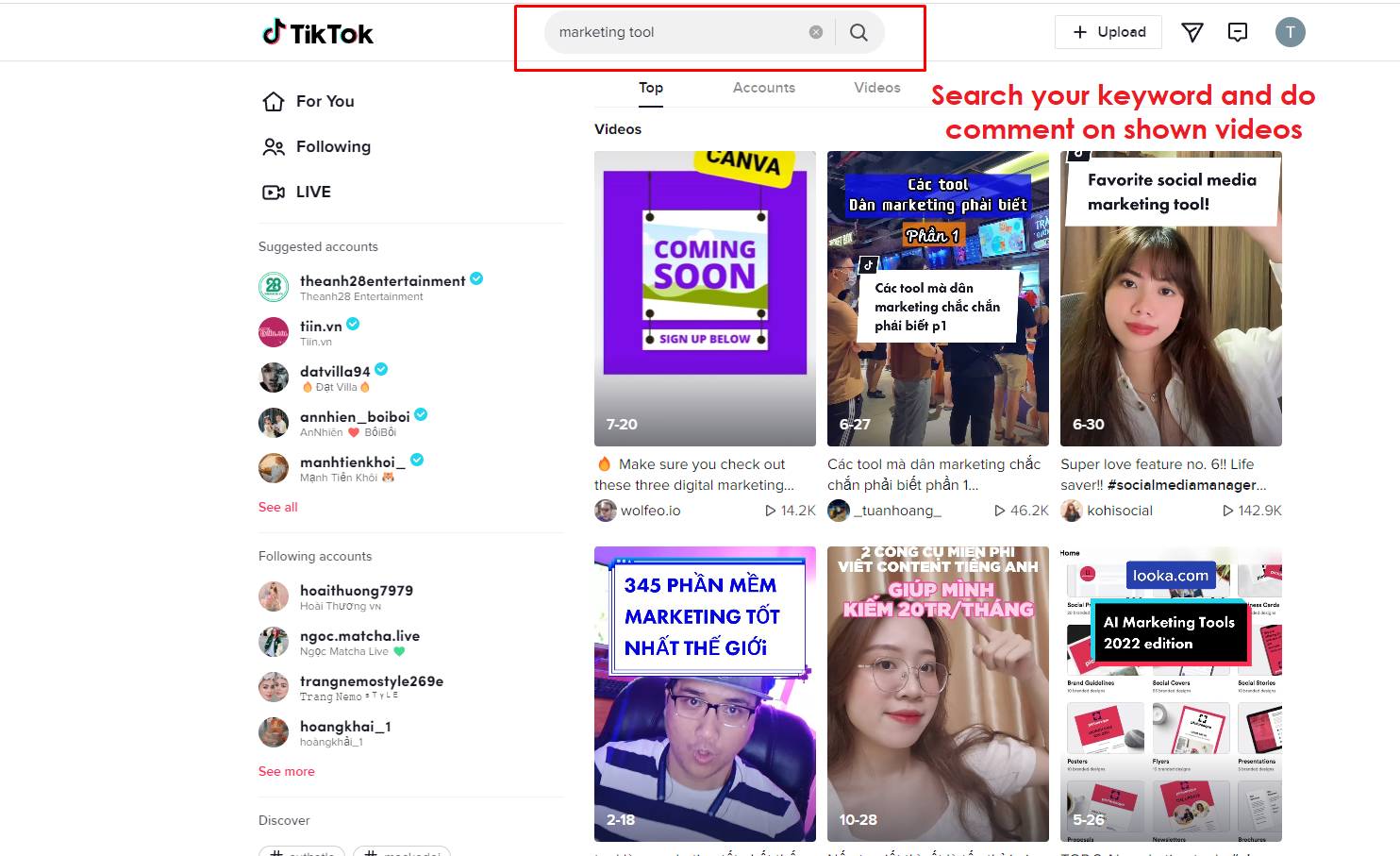 Comment on the video

: this feature will do comment directly on the original content or video link.

Comment on your live

: hundred of comments on your live will make your content go viral instantly.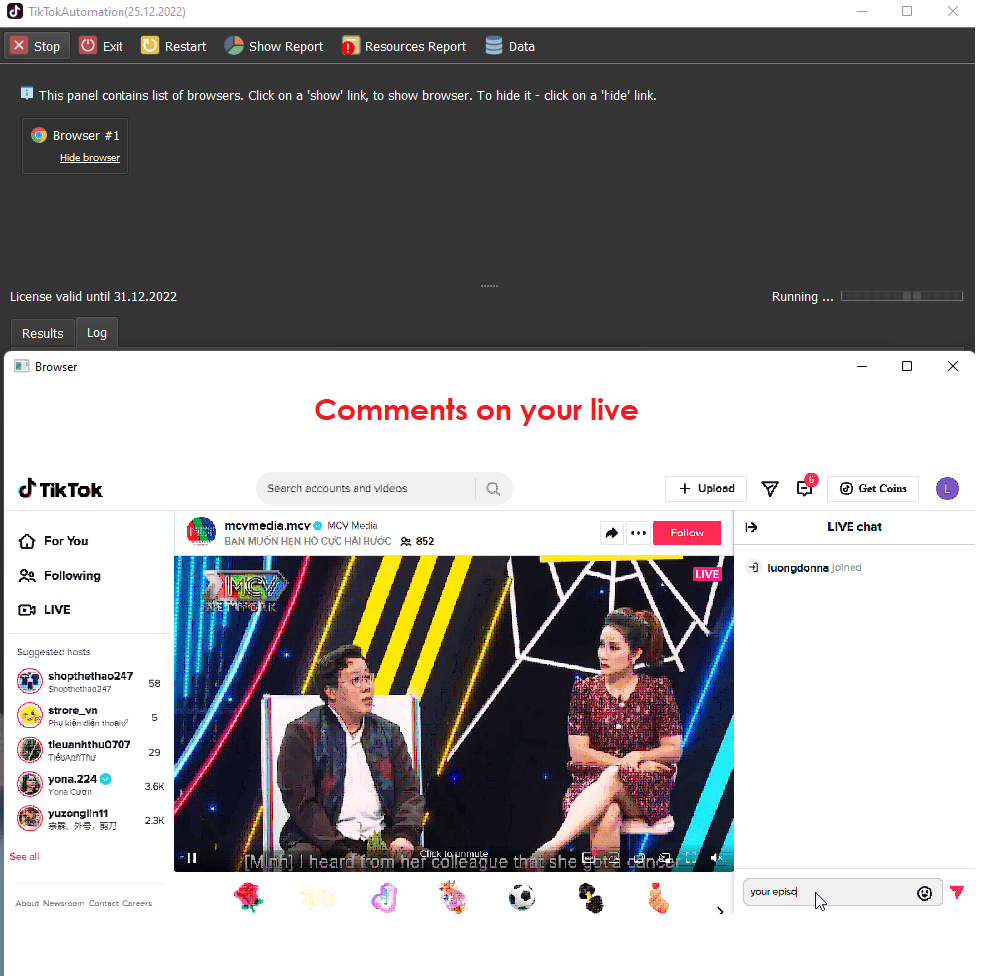 Comment user's video

: The tool will search username and do comment on related videos. That way, you can comment on content of influencers, celebrities to increase online presence to your brand accounts. This also enhances visibility of your profile and improves SEO.
Other great functions – TikTok Auto Commenter
The focus of this article is to help you better understand TikTok comments. However, you also get more other valuable benefits from increasing hearts, followers, following, scraping users, views etc.. Just like other software, our tool allows you to open unlimited threads to reach thousands to millions of interactions in a short time. Here are other features to help maximize your growth: 
Auto Register Bulk TikTok accounts: helps to create unlimited TikTok accounts to promote your brand accounts. These accounts help you gain more natural hearts, followers, views and comments The more accounts you have, the more organic engagement you will get.
Upload videos to multiple accounts at the same time: automates your efforts and saves a lot of precious time. 
Auto watch videos: increases views automatically and in bulk and makes your videos go viral instantly. 
Increase hearts: Providing a great online presence that your content get more appreciations. 
Mass follow accounts: enables your profile to get more followers organically and make your profile become more valuable. 
Scrape TikTok users who commented on videos: allows you to get as many leads as possible.
Search and follow users: lets you expose your profile to new audiences, and build a relationship with other users. 
Manual control: do other TikTok actions manually with multi-browsers. 
We hope that, no matter how you desire to grow on TikTok, a combination of above features will help you get success as desired. Our tool definitely brings more advantages and benefits to you in the process of becoming an influencer or doing business on TikTok.
Thank you for following the post. We appreciate your time.
For more information, kindly contact us at Autobotsoft.com