INSTAGRAM REGISTER BOT - INSTAGRAMCREATOR SOFTWARE FEATURES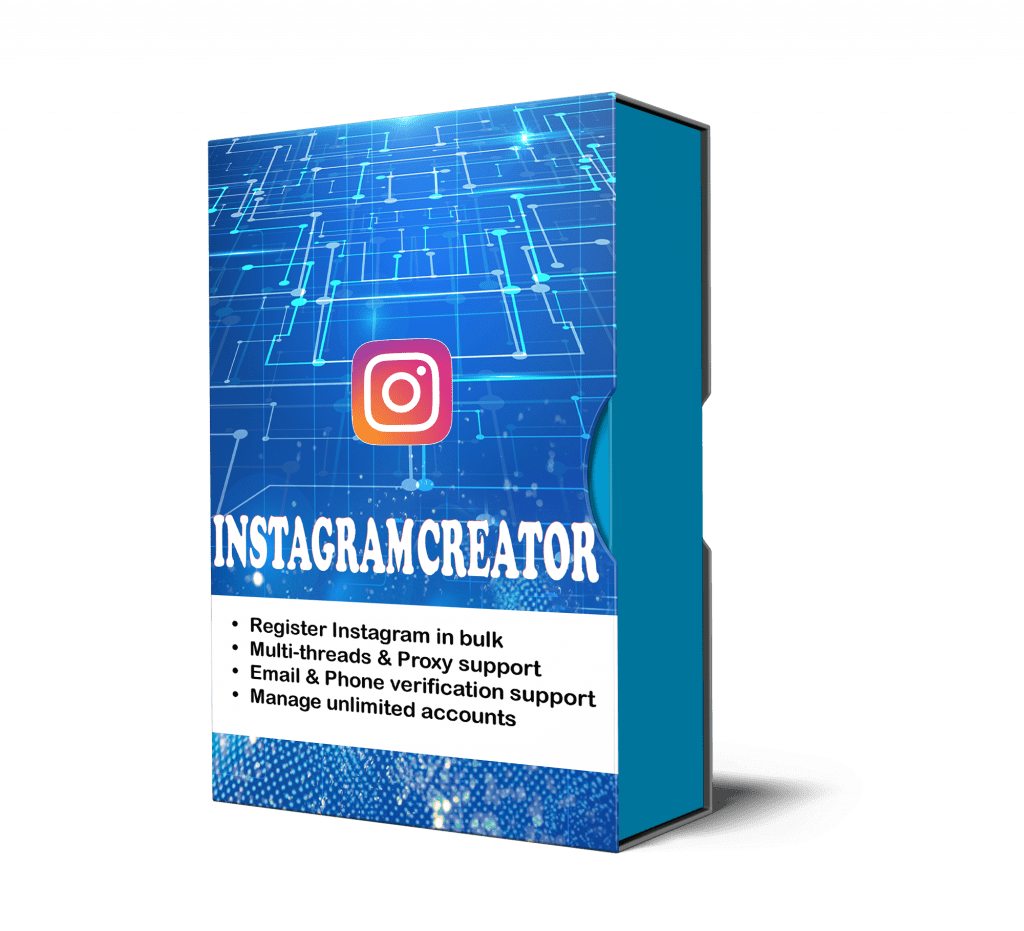 to Our Awesome Product now!
Enter your name and your email then click Submit for trial
WHY YOU SHOULD CHOOSE AUTOBOTSOFT SOFTWARE?
PRICING PLANS FOR INSTAGRAMCREATOR
HOW TO USE INSTAGRAMCREATOR SOFTWARE
Instagram Bulk Account Creator - Create Phone Verified Instagram Accounts
How many devices are allowed to use a single license key for InstagramCreator tool?
You can use the InstagramCreator Tool license key on up to two computers. In case you need to switch to another device, you can reset the license yourself on the website every three days.
What types of proxies are compatible with InstagramCreator tool?
To create Instagram accounts in bulk , it's recommended to use Residential Rotating Proxy. Saferproxy.com offers the best proxy packages that you can refer to.
What is the daily account creation limit for InstagramCreator tool?
The InstagramCreator tool has the ability to simultaneously create multiple Instagram accounts using multiple threads. The number of browsers that can be opened concurrently to expedite the account creation process is determined by your computer's configuration.
Additionally, the number of email accounts you possess or the availability of phone numbers from OTP websites also plays a role in the tool's capacity. By leveraging these capabilities, InstagramCreator enables efficient and rapid creation of Instagram accounts in bulk.
Which is better for creating multiple Instagram accounts, email or phone number?
It is recommended to use phone numbers for creating multiple Instagram accounts as Instagram may require phone verification even if you use email to create the account.
Do I need to input phone numbers individually into the software to create multiple Instagram accounts?
Our InstagramCreator tool has integrated with 2 OTP websites. To create bulk accounts, all you need to do is top up your account on the website and get the API code. Then, simply paste the API code into our software, and the software will automatically retrieve the phone code from the website for account creation.
Can I use this bot on a Mac computer?
For optimal performance, we suggest running the InstagramCreator tool on a Windows PC or VPS with a minimum of 8GB of RAM. Please note that the tool is not compatible with Mac computers. Additionally, ensure that there is sufficient available memory space.
29.09.2023
September 29, 2023
Added
OTP Website: GETSMSCODE.IO
27.09.2023
September 27, 2023
Fixed
Reg with phone on Desktop useragents
19.08.2023
August 19, 2023
Fixed
Reg with Phone on Mobile and Desktop useragents
Fixed
Reg with phone in Mobile interface
Fixed
Reg with Mobile interface
29.1.2023
January 29, 2023
Fixed
Popup Google with UK proxy
Improved
Schedule automatically
Updated
Create unlimited Instagram accounts
17.10.2020
October 17, 2020
Added
Phone verification support
Updated
Email verification support
27.12.2019
December 27, 2019