What are the features of this WebTraffic tool?
Support proxy/Dcom

Multi-threading software

Increase regular and stable website traffic

Simulate millions of users visit your website
How to use WebTraffic tool?
A. Login
Enter the provided account and password in the dialog box.
Click OK to log in to the WebTraffic software.
B. Detailed settings
1. Sleep Time
Pause between two runs (Milliseconds).
Example: If you want the rest time between 2 runs from 60 to 90 seconds, you do as picture:
2. Run: 
This is the number of times that you want the software to run. You can leave it as the default.
3. Threads
The number of threads (Tab/account…) to run at the same time.
Each thread corresponds to a window that is opened. Depending on the strong or weak configuration of the computer, choose the number of threads accordingly.

4. UserAgents (Desktop)
Select your user-agent file. When you buy this tool you will receive a user-agent file that contains many different user-agents to simulate different devices.
Select

to upload the file Virtual Browser.
5. IP Option
In this section, you choose Dcom or proxylist

6. File Proxy
If you choose Proxy in item 5, you need to install File Proxies. Otherwise, if you choose to use Dcom, skip this step.
To set up this function, you list the proxy list into a text file (.txt format). Each proxy address is a line of the text file. The software can run multiple proxies.
This proxy file is used to reserve when the proxy in your DATA fails, the software will use this proxy to run. If you are looking for a cheap and reputable proxy rental, click HERE.

7. Search Input
You need to set up the DATA section for the software to simulate user searches.
C. Results
After you complete the installation, check again and click OK to run.
Click Show browser to see the running process of the software.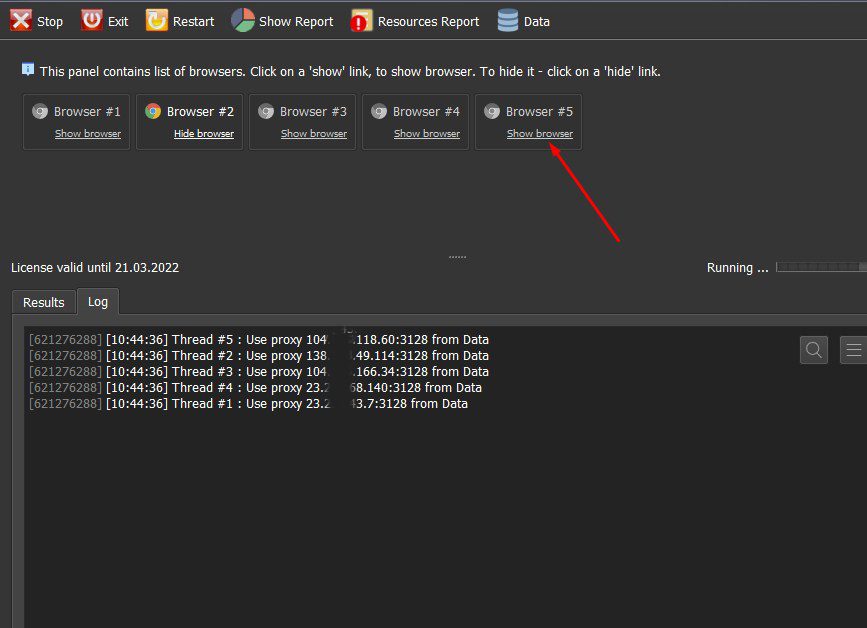 All software activities are listed in the Log section. You can see how the software is running.
How much does this software cost?
Contact info
Email: autobotsoft@gmail.com
FaceBook: https://www.facebook.com/autobotsoftsupport
Skype: live:.cid.78c51cd4e7238ae3
YouTube: https://www.youtube.com/channel/UCGftS8E3vX7IaUwg4GgDWDQ
Twitter: https://twitter.com/autobotsoft