GMAIL REGISTER BOT - GMAILCREATOR SOFTWARE FEATURES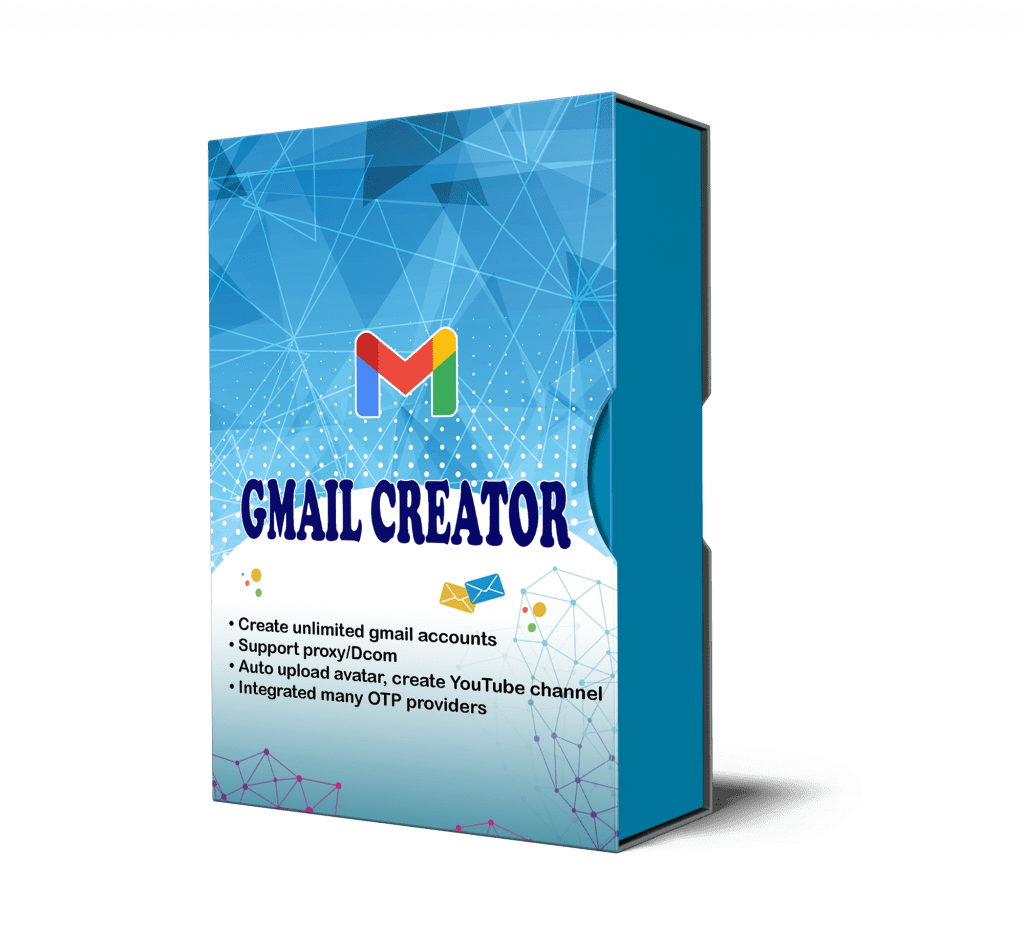 to Our Awesome Product now!
Enter your name and your email then click Submit for trial
WHY YOU SHOULD CHOOSE AUTOBOTSOFT SOFTWARE?
PRICING PLANS FOR GMAILCREATOR
HOW TO USE GMAILCREATOR SOFTWARE
Gmail register bot - Bulk gmail creator software available | Create unlimited gmail accounts
Tutorial How To Farm Gmail Accounts Using GmailCreator
How many devices can a license key of Gmailcreator be set on?
Each license key can be used on 2 computers. If you need to change to another machine, you can do reset the license by yourself on the site every 3 days.
Where do I rent OTP code to Create Bulk Gmail Accounts?
We support many OTP providers from both VietNam and international OTP providers such as chothuesimcode, 5sim.net, 365sms.ru, sms-activate.ru, smspva.com, etc.
What kind of proxies can we use to Create Bulk Gmail Accounts?
You should use Residential Rotating Proxy to create Gmail accounts in bulk. You can refer to Saferproxy.com to get the best proxy packages.
How many Gmail accounts come with 1 proxy?
One proxy should be used to create max 3-4 accounts per day. Also, we offer Vietnam proxy and USA proxy at saferproxy.com
How many accounts can be created by the GmailcreatorV2 per day?
The bot can be open multiple threads to create bulk gmail accounts. Depending on your configuration, you can set the appropriate number of browsers to accelerate. The number of accounts created also depend on your proxy source and OTP providers. Eg: you need a device of 8GB RAM, core i7 and at least 50 proxies to open 40-50 threads at the same time. In addition, please top up your balance at OTP sites to not be interrupted while running the tool.
Can I create bulk Gmail accounts without OTP verification?
Unfortunately, the tool can not do it. Anyway, Google will require you to verify again if you bypass phone verification.
09.11.2023
November 9, 2023
Fixed
Reg with desktop (EU Proxy)
21.10.2023
October 21, 2023
Fixed
Get phone number with GetSMScode.io
02.10.2023
October 2, 2023
21.09.2023
September 21, 2023
04.09.2023
September 4, 2023
Fixed
Reg with Mobile useragent
11.08.2023
August 11, 2023
Fixed
Reg function with pop-up
Fixed
Farm function (Youtubeaction and random web)
Fixed
Farm with Google drive
Added
Solve captcha for farm and reverify function
Fixed
Reg accounts with mobile interface
Fixed
Create YouTube Channels (Farm feature)
Fixed
Farm with Google Map, Youtube action
19.02.2023
February 19, 2023
Fixed
Farming feature: Update Avatar
29.11.2022
December 29, 2022
27.11.2022
November 27, 2022
Fixed
Farm with Send Email, Google Drive, Read Google News
21.11.2022
November 21, 2022
Fixed
Reg with VIOTP provider
Fixed
Farm with Create Youtube Channel
Fixed
Farm with Google News
Fixed
Farm with Send email
4.11.2022
November 4, 2022
Fixed
login with new interface
Fixed
Update from Google for phone verification
Fixed
Popup when running Farm for new Gmail
Fixed
Login when running Farm function
Fixed
Fix Austria/Korea proxy Popup
31.03.2022
January 1, 1970
Added
Add new OTP providers
Added
Add new activate Imap/Pop3
Added
Add new OTP providers
Added
Read Random Websites
Added
Send Email With Desktop
Added
Play with Google Maps
Added
Create Google Docs File
Added
Upload To Google Photo
Added
Login external Gmail
Added
Proxy from Saferproxy.com
Added
Add Chothuesimcode.com
Added
Save profile/Cookies