Are you having trouble reaching the right audience for your marketing campaign? Are you tired of email marketing strategies with just one gmail? Sending mass emails from a gmail account takes a lot of time and effort. With bulk gmail accounts, you will no longer feel tired of having to send each promotional email. Let's explore the advantages of Gmail account generator and the benefits of multiple accounts in your marketing campaigns.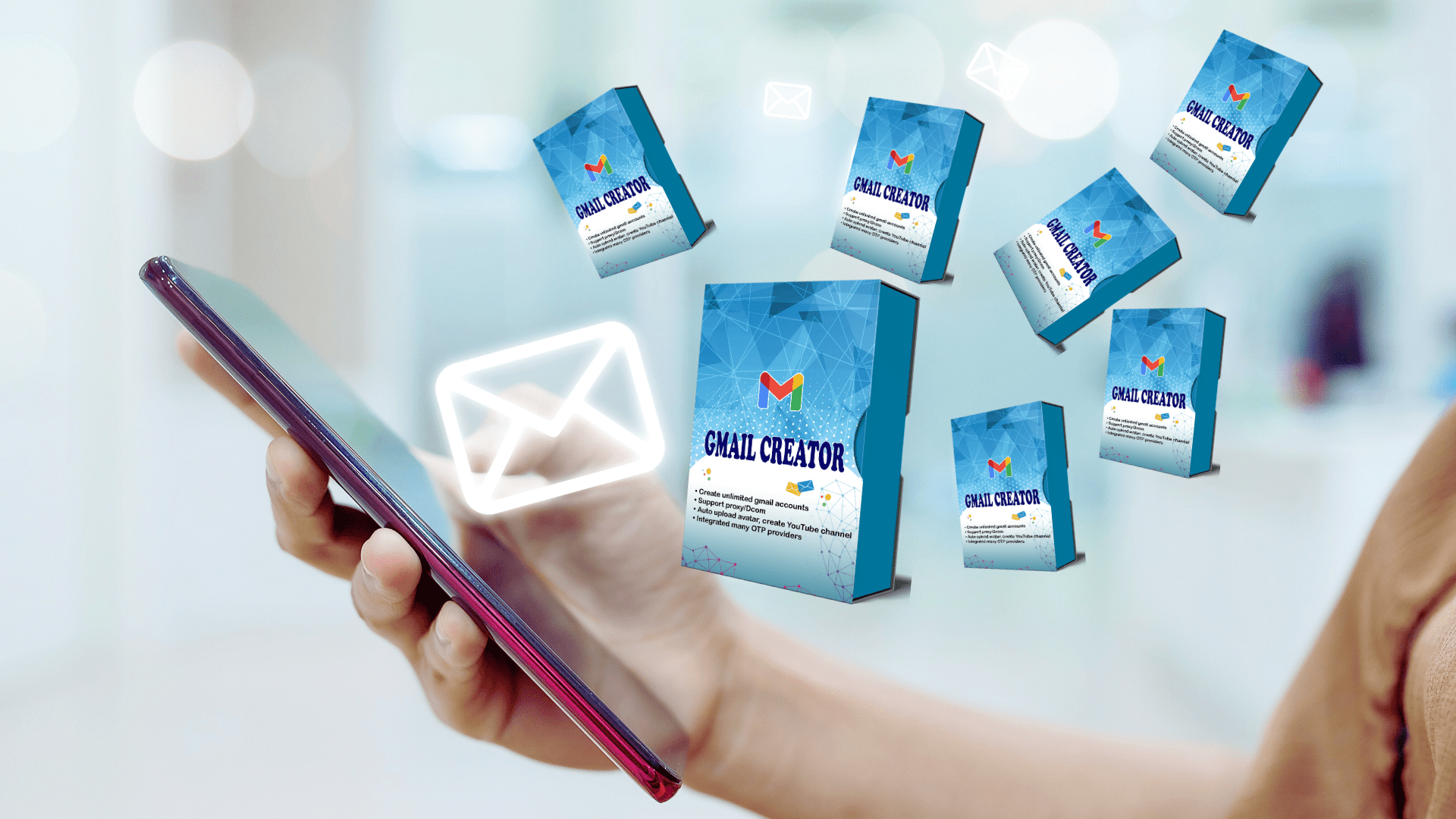 How does Gmail Account Generator work? 
Gmail account generator allows you to automatically create bulk gmail accounts with different proxies and user-agents. These tools help hide the real addresses of the accounts and bypass Google's security policies. It provides the capability to open multiple threads and generates unique usernames and passwords. Accordingly, Gmail account generator makes it easier to generate multiple accounts without any restrictions. 
Bulk gmail accounts are used for multiple purposes such as: email marketing and social media management. This is the ideal resource for email marketing campaigns where you have the opportunity to reach a large number of customers. Alternatively, branding and social media management becomes easier than ever with GmailcreatorV2. 
Importance of bulk gmail to an email marketing campaign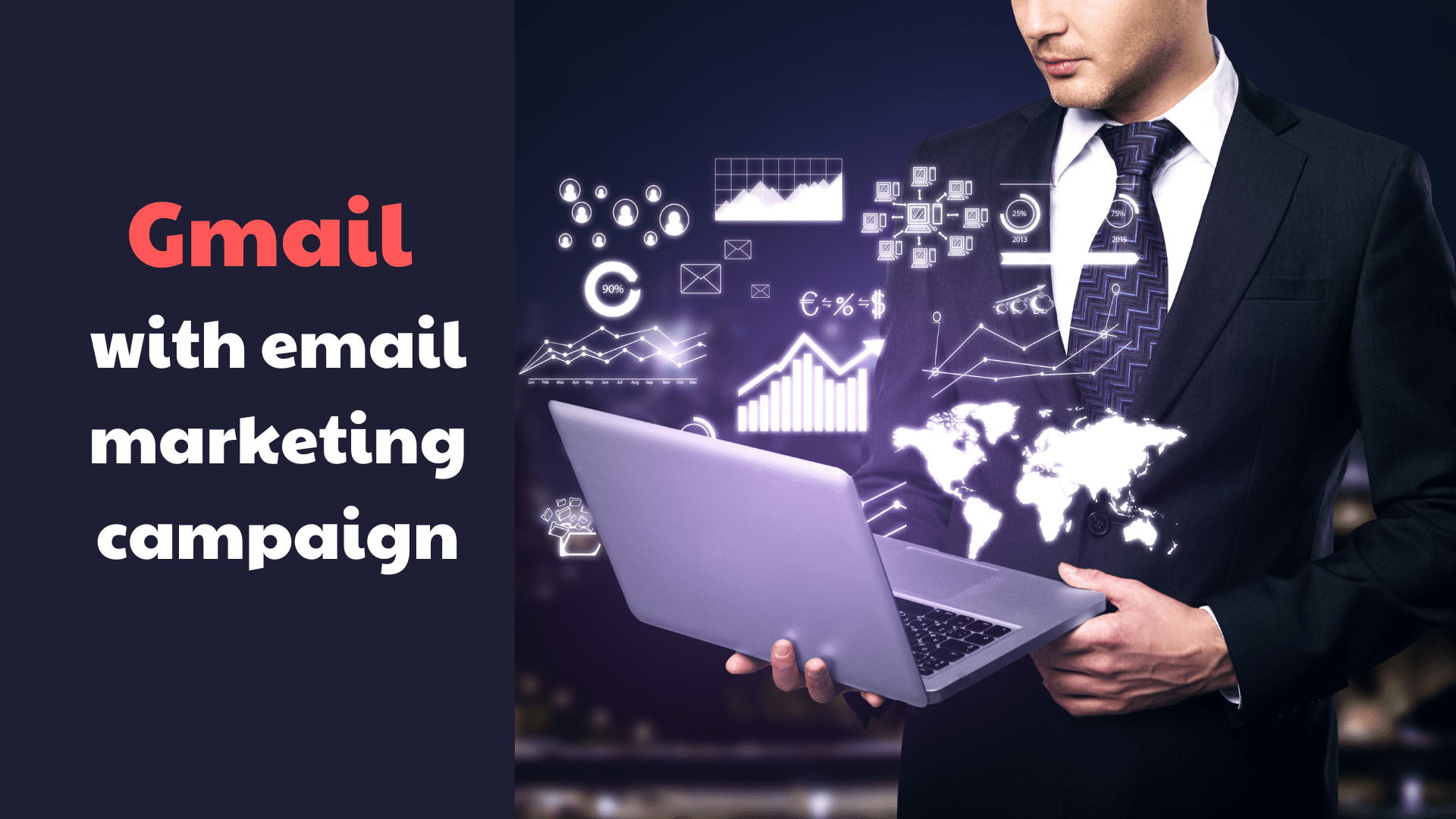 Gmail has long been popular and useful for email marketing by individuals and businesses all over the world. When it comes to emailing campaigns, bulk gmail accounts are a must. If you are new to email marketing, you might have used a single gmail account. This might limit your ability to track its performance. With Gmail account generator, you can easily multiple accounts and track your email results specifically. Let's find out how bulk gmail accounts benefits your cold email marketing campaign: 
1. Significant performance increase
Normally, Google allows you to send 30-50 emails per day with a single account. With bulk gmail accounts, you can send a large number of emails within a specific timeframe. This way you have potential to improve deliverability and opening rates.
2. Avoid being included in spam 
Gmail is one of the best email services around, so you can take advantage of its reputation to boost email deliverability. Also, distributing your email volume across multiple accounts increases the likelihood that your message will be delivered to the recipient's inbox without being marked as spam. This is highly valuable for reaching as many people as possible and increasing conversion rate. In addition, you can customize your own name and profile photo to appear more trusted and earn more attraction.
3. A/B testing with Gmail account generator 
A/B testing in email marketing is extremely important. It allows you to adjust your messages and send various variations to different groups of subscribers using bulk accounts. This testing helps find out which variation of the campaign works best and ensures that you're sending the right message to your target audience. Also, you can segment email lists subject to age or location and purchase history. With unlimited gmail accounts by Gmail account generator, you can do research on different audience segments to streamline your email marketing efforts and increase its relevance.
Additionally, for making your email marketing campaign more effective, it is important to provide valuable and relevant messages; thereby maintaining positivity and credibility among audiences. Ultimately, your emailing campaign gets better results and is taken to the higher level with Gmail account generator. 
Benefits of Gmail to Social media management
Create multiple social media accounts with bulk gmail accounts 
Most people have at least one social media account on each platform for different purposes. Google accounts are available on all platforms for registration and login. However, managing multiple social network accounts requires a large Gmail resource to easily stay ahead of competitors and increase user influence. Specifically, it increases your audience's online presence with activities aimed at resonating with users on social networks. For businesses, this is a good opportunity to gain more followers and become well known. Besides, demographics are diverse across social platforms, so having multiple social accounts will help maximize the number of audiences you can reach. The larger the demographic, the more Google accounts you need to log into social networks and reach them. Ultimately, Gmail account generator is a cost and effort effective option that allows you to create the number of social media accounts that you need. 
With the value gmail brings, besides gaining more exposure to businesses, more and more people want to own a large number of gmail for sales and growth in the MMO world. Let's take a look at user-friendly interface of the Gmail account generator:
Important notes in using Gmail Account Generator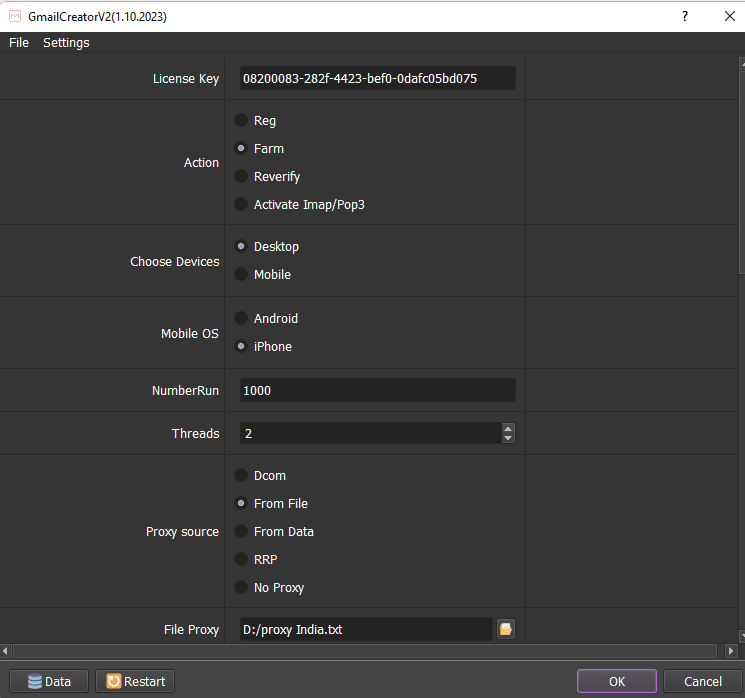 After downloading the GmailcreatorV2, you then read the tutorial carefully and take note of some guides below while using the bot:
Proxies and OTP codes are two important factors that determine the number of accounts that can be created. Keep in mind the country of proxies and the one of OTP codes should be the same. 
No proxy

is just a short-term option for you to

give it a try before making a purchase for a regular license

. In other worlds, it is used to create a few accounts with your real IP. To increase account authenticity, having different IPs or using residential rotating proxies is highly recommended.
Account farming not only helps increase its reliability and minimize the risk of being banned as soon as the account is created. Here are

10 farming actions

that you can use 3 ones at a time and do it for 7 days before using them for multiple purposes:
Farm Youtube channels with Youtube actions 
In the end, Gmail provides countless benefits for your marketing campaign as well as for business growth. You can take advantage of gmail source to manage multiple social media accounts and grow in the MMO world. This is also the best email type for a smooth email campaign. With these potentials, Gmail account generator gives you great resources as well as bulk gmail accounts without breaking the bank. We hope you have a good experience with the Gmail account creator.
If you require any further information, please feel free to contact us at autobotsoft.com