Are you looking for a solution to get multiple gmail accounts for various purposes? However, you cannot find out where the great provider to get them. Here we have a GmailcreatorV2 widely used by many countries around the world, that helps you generate gmail account with unlimited threads in combination with effective farming features. Hence, the bot gives you thousands of quality accounts without taking a lot of time and effort.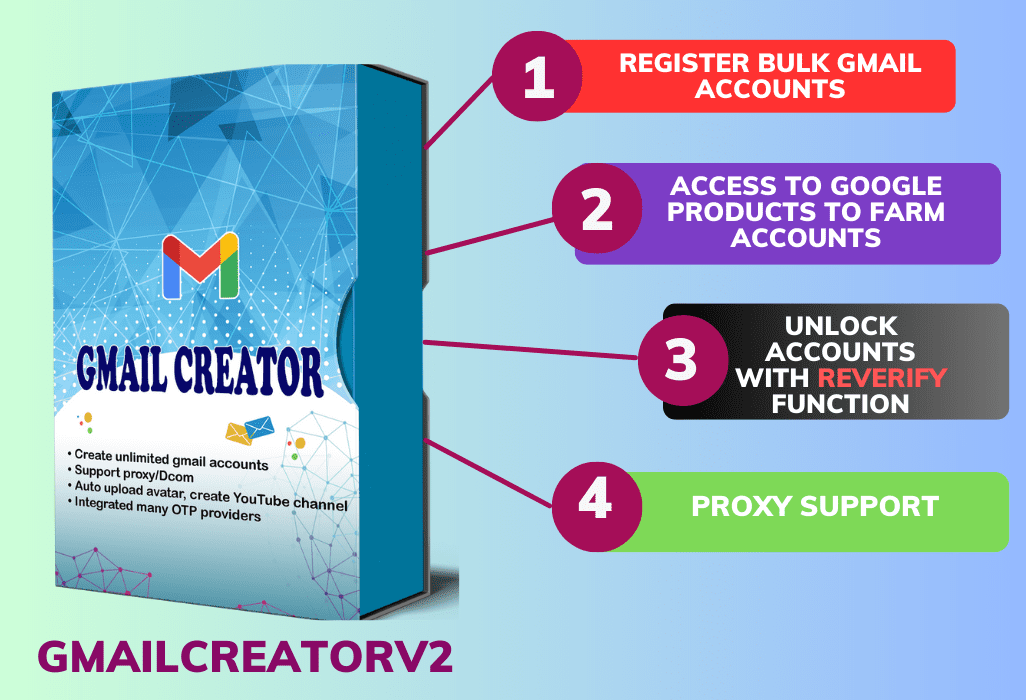 Why do you need gmail accounts? 
As a valuable product of Google, Gmail is the world's leading email service provider. Having multiple gmail accounts allows you to separate your personal email and emails for business. This helps you keep privacy and streamline your work. Moreover, using multiple gmail accounts for different purposes also limits spam. Thirdly, with today's fierce competition, it is necessary to backup gmail accounts to have a replacement in case one of the accounts is hacked or locked out of Google. In addition, bulk gmail accounts allow you to streamline your marketing efforts and maximize your opportunities. Let's take a look at how Gmail source works with your marketing campaign before finding out the best automation tool to create bulk gmail accounts. 
How Gmail account works with your marketing campaign
Gmail has long been an essential tool for businesses and individuals to manage their campaigns effectively. Whether you run a business or are a social media influencer, generating bulk gmail accounts should be the first important process to keep things going. Accordingly, your accounts are always kept safe because they are not marked for abuse. Gmail offers various features and integrations that can be utilized to effectively manage marketing campaigns. Specifically, here is how Google works with email marketing, social media, ads tools, etc. 
Importance of Gmail to your email marketing campaign

 
With the influence of Google, quality gmail source is an invaluable asset to your marketing strategies. By using Gmail for email marketing strategy, you have potential to reach a wider audience and make sure your email is seen by more subscribers or recipients. Also, Google is the leading search engine in the world, so emailing from gmail accounts enhances your credibility, it is more likely to be read seriously by the recipient.
Gmail is known for its high deliverability rates, meaning that the emails sent from Gmail accounts generally have a good chance of reaching their intended recipients' inboxes. By adhering to best practices and avoiding spammy tactics, you are able to improve your email deliverability rates and maximize the effectiveness of your emailing campaigns.
Gmail is getting more perfect with interactive features through the ability to engage with events, surveys or directly interact with dynamic content. These features allow users to enhance user engagement and encourage recipients to respond to your emails.
With the ever-evolving smartphone, mobile optimization is crucial for successful email marketing. Gmail's mobile app and web interface are designed to provide a seamless experience across devices, ensuring that your marketing emails are displayed correctly and readable on mobile devices.
Gmail for marketing tools on social media and ads campaign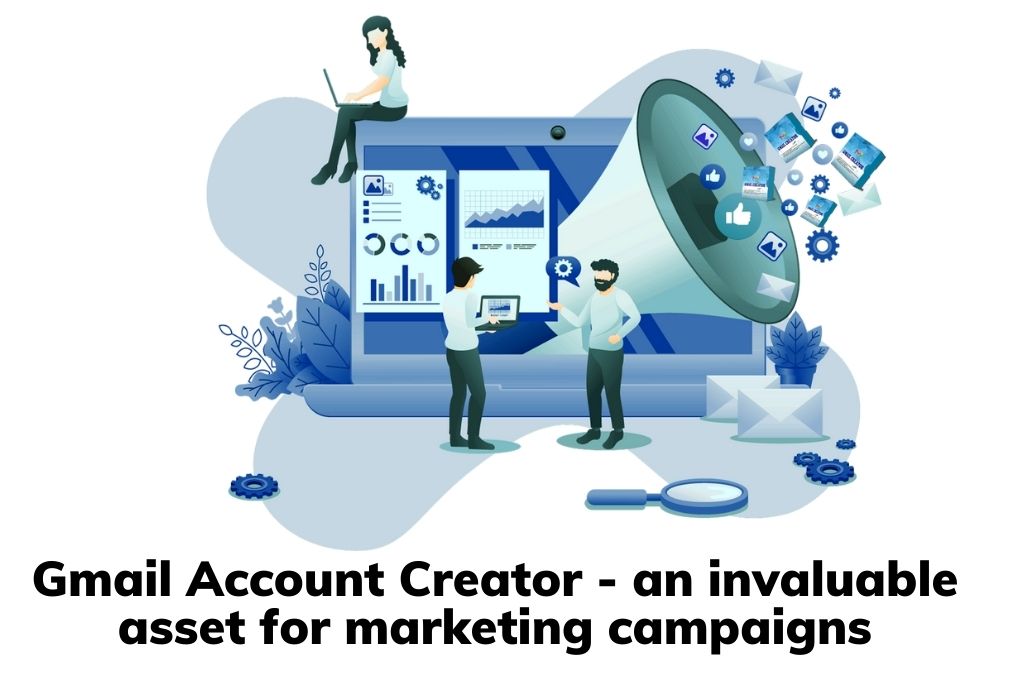 "I need 2k gmail accounts" is one of the most popular posts on social media and facebook groups. The demand for a large number of gmail accounts is increasing because of the benefits and value it brings.  For google advertising campaigns, gmail source is an important tool that determines the effectiveness of your campaign. When running Google Ads campaigns, you often test different ad variations to determine the most effective message or design. With GG ads tools, bulk gmail accounts are often used to simulate multiple user interactions with ads, allowing advertisers to gauge how different versions perform. Also, more and more marketers or Youtubers are leveraging this security product to increase their social media engagement for gaining credibility and earn lots of money.
Outstanding features of Gmailcreator bot – Generate Gmail Account
Are you tired of manually creating each Gmail account? Stop the time-consuming process now and make the most of our Gmail Generator! With diverse needs of businesses and individuals, Autobotsoft gives you GmailcreatorV2 that helps generate unlimited gmail accounts on a effective and smoothly basis: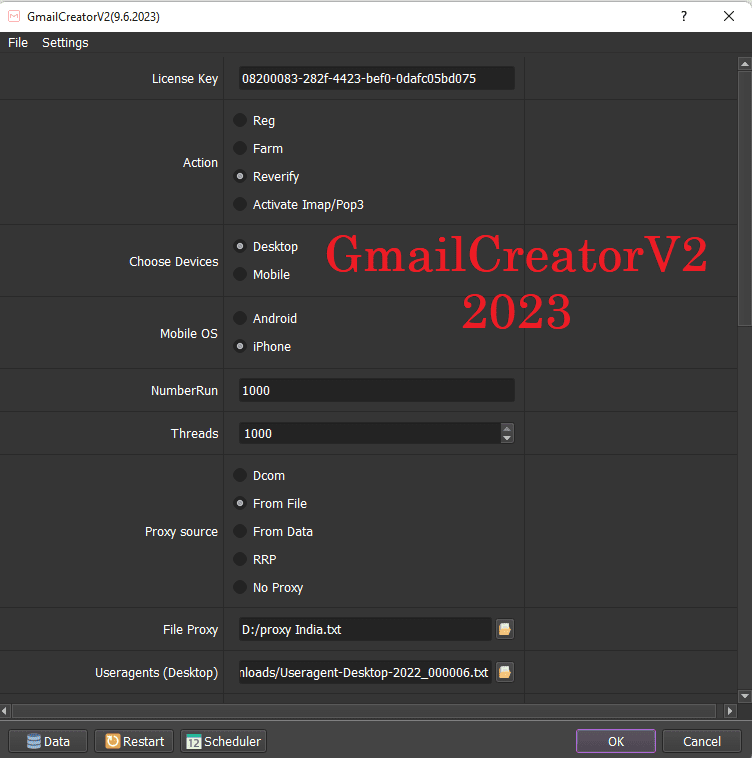 Boost your work 
The Gmailcreator allows users to open multiple threads to create bulk accounts. Just a few basic installation steps, the rest automatically runs in the background, that helps to save a lot of effort and time.
Random or customized Account Details
The GmailcreatorV2 generates gmail account details at random such as usernames, passwords, and associated email formats. This helps ensure uniqueness and makes it easier to manage multiple accounts. Also, our Gmail Account Creator allows you to customize these settings and profile images to perfectly align with your needs. 
Proxy Support to generate bulk gmail accounts
In some countries, you need to rent proxies to be able to access Google. That's why GmailCreator also offers proxy usage. Also, proxies mean different IPs help you bypass restrictions and avoid being detected by unusual activity. That way, you are able to register bulk gmail accounts without interruption or prevention.
Easily manage thousands of created gmail accounts 
After successfully creating an account, you can manage created gmail accounts easily and export them to a file, categorize gmail accounts into groups to use for different purposes.
Various farming features after generating gmail accounts successfully
Farming an account as soon as creation is a necessary process to preserve your efforts and keep your accounts safe. Gmailcreator is an all-in-one app that also offers several efficient farming features to increase reliability. Specifically, gmail farming bot gives you access to Google products such as: Youtube, GoogleDrive, Google alert, Google Map, etc. By farming your account regularly, you can successfully gain trust of Google and use your accounts effectively. 
Final thoughts – Generate Gmail Account
In the end, our GmailcreatorV2 enables you to generate gmail account with multi browsers effortlessly. With a user-friendly interface, our bot ensures a seamless experience, even for users who are completely new to automation tools. GmailcreatorV2 also employs the most modern encryption protocol to keep your data confidential throughout the account creation process. What's more, created accounts will be a valuable asset to your marketing strategy. With their quality, you can reach a huge audience, improve your leads and gain more exposure on social media. Hence, this tool is widely used by millions of clients worldwide. By leveraging this tool effectively, you have the potential to gain a competitive edge and free up your time to focus on strategic initiatives.
So, Try Out Our Gmail Account Creator Today to enjoy its SIMPLIFICATION, STREAMLINE and MAXIMIZATION
If you need more information, please feel free to ask us at autobotsoft.com