FACEBOOKCREATOR BOT - FACEBOOKCREATOR SOFTWARE FEATURES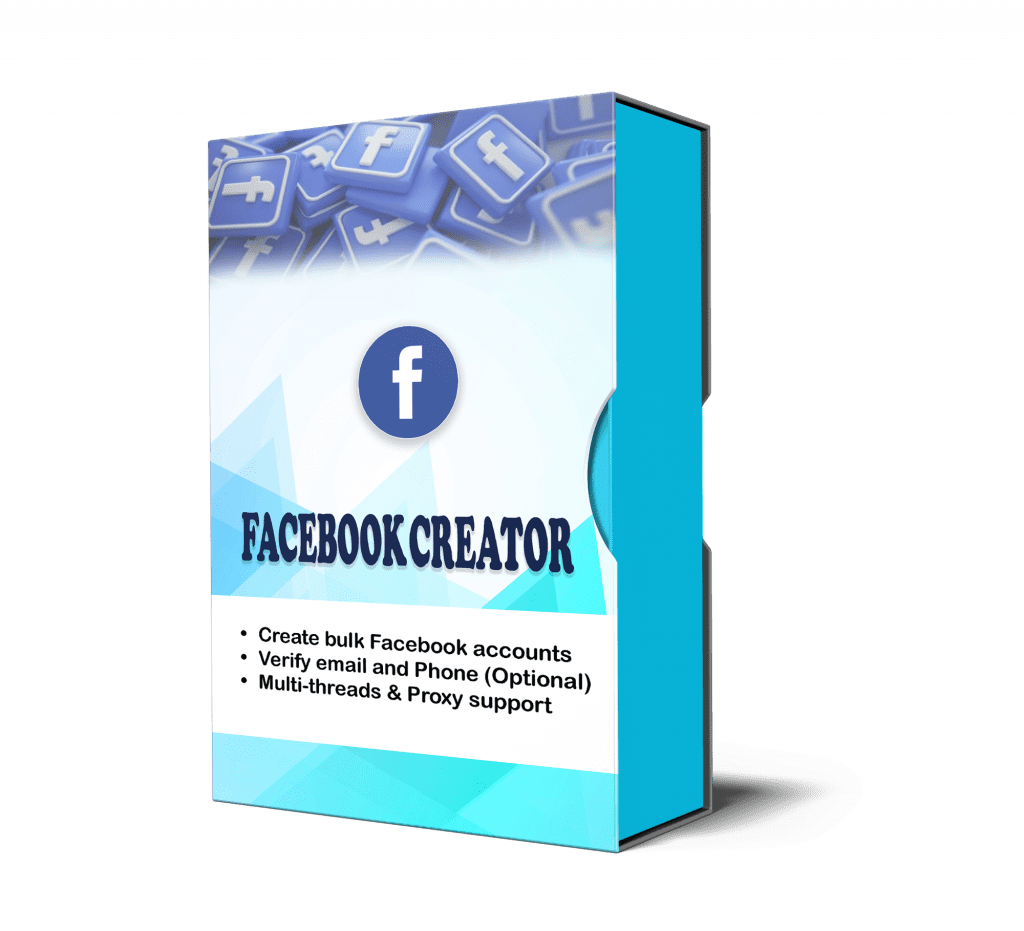 to Our Awesome Product now!
Enter your name and your email then click Submit for trial
WHY YOU SHOULD CHOOSE AUTOBOTSOFT SOFTWARE?
PRICING PLANS FOR FACEBOOKCREATOR
How To Use Facebook Account Creator Bot - Facebook Registration tool
What is the maximum number of devices that can use a single license key for the Facebook account creator bot?
With one license key of tool, you can install it on two computers. If you want to switch to another device, you can reset the license on the website every three days.
Are there any specific proxy requirements for using Facebook account creator bot?
You can use any type of proxies with this bot (in format: IP:PORT or IP:PORT:USERNAME:PASSWORD – HTTP IPv4). However, a residential rotating proxy is the best option to get the highest performance.
How many Facebook accounts can be generated using this software?
The Facebook account creator bot has the ability to create multiple Facebook accounts in bulk by opening multiple threads. The number of browsers that can be launched at the same time to expedite the process relies on the computer configuration.
Besides, the number of email accounts you possess or the availability of phone numbers from OTP websites also plays a role in the tool's capacity. By leveraging these capabilities, this tool enables efficient and rapid creation of accounts in bulk.
Does this Facebook account creator bot allow me to set up two-factor authentication for a large number of accounts simultaneously?
With this tool, you can easily enable 2FA for all previously generated Facebook accounts.
Can I use my own list of phone numbers to create multiple Facebook accounts with this tool?
Our tool has integrated with various OTP services. Simply choose the OTP service of your preference, add funds to the web service, get the API code, and paste it into the software. This will allow the software to automatically receive OTP and register bulk Facebook accounts.
Is there any US OTP service that your software is integrated with?
If you want to register Facebook accounts using US phone numbers, you can choose 5sim.net which offers multiple countries to rent OTPs through our Facebook account creator bot.
19.11.2023
November 19, 2023
25.10.2023
October 25, 2023
15.10.2023
October 15, 2023
Fixed
Register with any email
13.10.2023
October 13, 2023
07.10.2023
October 7, 2023
02.10.2023
October 2, 2023
29.09.2023
September 29, 2023
Added
OTP Web: GETSMSCODE.IO
20.09.2023
September 20, 2023
Added
Login accounts function
Updated
The latest chrome browser
Fixed
Save Bad account in data
Updated
Save information of locked accounts after creation
Fixed
Save data with reg with temp mail function
Fixed
Save password in Data
29.12.2022
December 29, 2022
12.12.2022
December 12, 2022
Fixed
Reg with Phone: Reg with Codesim website
05.12.2022
December 5, 2022
20.11.2022
November 20, 2022
19.11.2022
November 19, 2022
Fixed
Reg with Gmail, any email, tempmail
4.11.2022
November 4, 2022
Fixed
Reg with Gmail new interface
20.10.2022
October 20, 2022
Added
Reg Facebook accounts with any type of Email accounts
Fixed
Reg with Phone: Reg with Codesim website
Added
Add new OTP providers
16.12.2021
December 16, 2021
Added
Add Chothuesimcode OTP site